Joel Dahmen: new champion of the Corales Puntacana Resort & Club Championship PGA TOUR 2021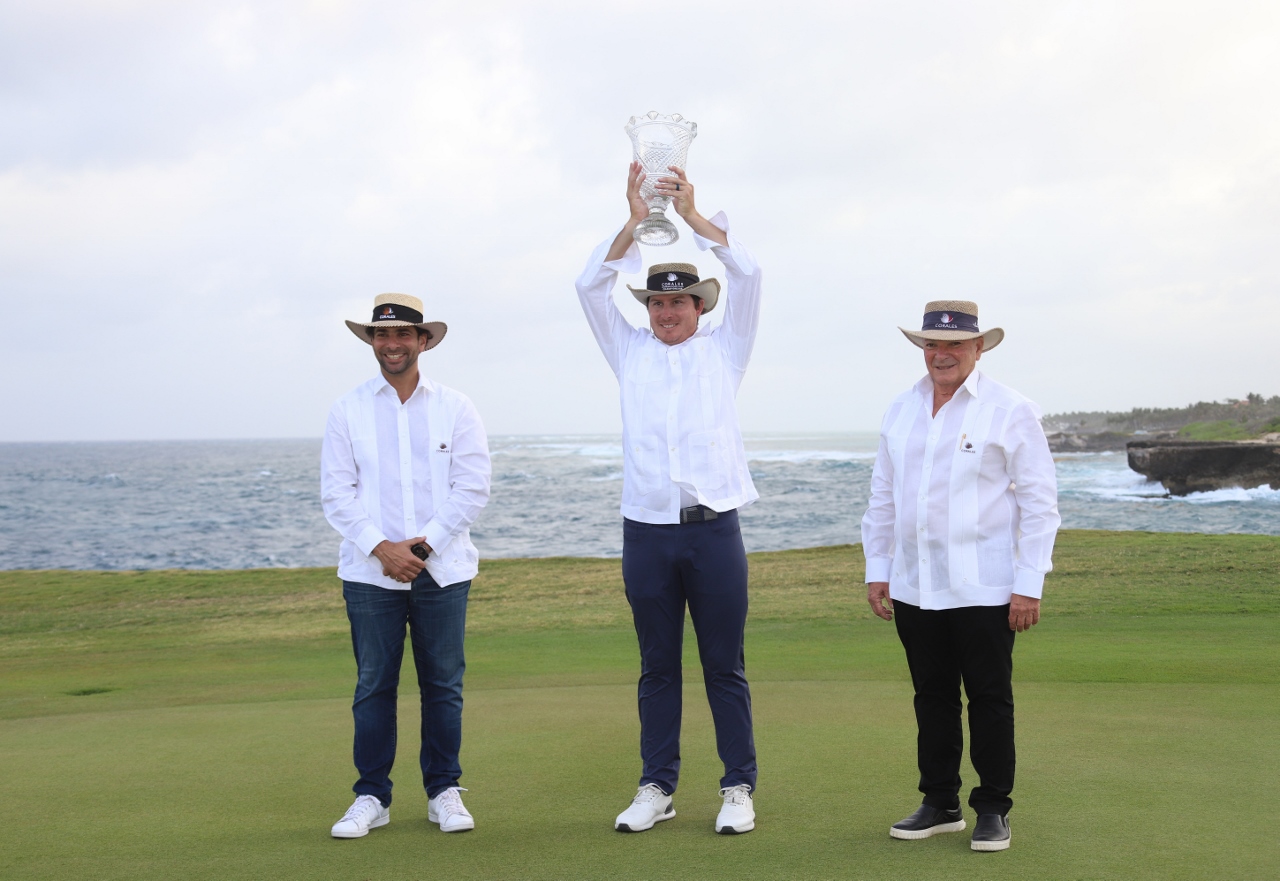 Frank Elias Rainieri, Joel Dahmen, Frank Rainieri
Punta Cana, La Altagracia. – Joel Dahmen is the new champion of the 4th. edition of the Corales Puntacana Resort & Club Championship PGA TOUR 2021, who takes $ 540,000 dollars for obtaining the first place of a prize pool of $ 3 million dollars, the highest in the history of Dominican sport, and 300 points for the FedExCup.
The American ranked first in a close contest, competing head-to-head with Puerto Rican Rafael Campos, in a tiebreaker for the history of the 18th hole at the Corales golf course.
The professional golfer received the trophy at an awards ceremony led by the president and CEO of Grupo Puntacana, Frank Rainieri; PGA TOUR Senior Rules and Competition Director Stephen Cox; and Grupo Puntacana's Senior Vice President of Business, Frank Elías Rainieri, in a historic tournament for being the first PGA TOUR event to be held twice in the same season.
Dahmen, the new winner of the Corales Championship, said: "The Dominican Republic and Punta Cana are incredible places. My wife and I love being here, this will not be our last time here for sure. Thanks to Corales Championship and Puntacana Resort & Club. This is a very special place ".
The international tournament, held for the fourth time at the Corales golf course, was broadcast by the Golf Channel network reaching more than 525 million people during the event broadcast, and through print and digital impressions.
Dahmen's victory at Corales Championship PGA TOUR 2021
Dahmen, at the age of 33, clinches his first PGA TOUR victory with the Corales Puntacana Resort & Club Championship, and this was his third participation in the tournament.
The last round of the fourth edition of the Corales Puntacana Resort & Club Championship 2021, began with the players Rafael Campos and Joel Dahmen tied for first place, both with -10. This is how Sunday's fourth round unfolded with the two players – the Puerto Rican Campos and the American Dahmen – keeping a distance of one or two strokes apart in their respective results.
Dahmen and Campos remained leaders of the tour during the first 54 holes of the tournament. In the last round on Sunday, Dahmen won the event when at the 18th hole, also known as Devil's Elbow, he managed to overtake Campos, who missed his last shot when the ball went off the edge of the hole. During rounds two and three, Campos had birdied that same hole.
In the end, Dahmen won with -12, shooting in today's round a 70 and Campos reached second place with -11.
Emiliano Grillo, Puntacana Resort & Club Ambassador on the PGA TOUR, made two impressive eagles on holes 4 and 12, helping him finish Sunday's round with -9.
Current 2020 Corales Puntacana Resort & Club defending champion Hudson Swafford finished his final round with a 70 (-9).