Bahia Principe will add Pickleball to its offer at Bavaro hotels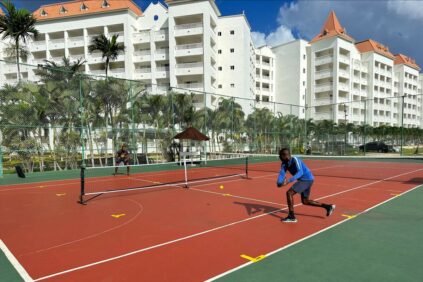 Bavaro.- Bahia Principe Hotels & Resorts has announced that it now offers guests the option to play pickleball at 13 of its properties, including resorts located in Jamaica, Bávaro-Punta Cana, and Riviera Maya. At the Bahia Principe Grand Bavaro resorts in Punta Cana (eight hotels), the Bahia Principe Riviera Maya Resort (hotels by the hour), and the Bahia Principe Runaway Bay properties (two hotels), guests will be introduced to the popular racket sport that combines elements of tennis, badminton, and ping pong. Each of these properties has two tennis courts and equipment available for those who want to play.
Aziz El Idrissi, Director of Entertainment and Sports at Bahia Principe, expressed his pride in constantly evolving and improving guests' experiences. He stated that playing pickleball at their resorts in Jamaica, Punta Cana, and Riviera Maya is a unique and exciting experience that can only be found in the beautiful Caribbean setting.
El Idrissi added that in addition to playing pickleball, guests are encouraged to explore the luxurious amenities, dining options, spa treatments, and other experiences that each Bahia Principe property has to offer.
With their world-class facilities and commitment to exceptional guest experiences, Bahia Principe's pickleball courts are sure to provide fun and entertainment for all travelers visiting the resorts. In addition, each property offers its own culinary experiences, natural adventures, and relaxing amenities, all accompanied by renowned service and attention to detail.