José González, the first Dominican gold medalist in 100 meters in the Pan American Games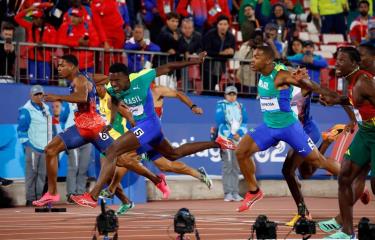 Santo Domingo.- Baní, a native of Peravia province, produced the first-ever Pan American Games gold medalist in the 100 meters sprint. José González emerged as a prominent figure in Dominican athletics by claiming gold in this explosive athletic event at the National Stadium of Chile.
At the age of 28, José González has become a noteworthy athlete in Dominican sports. Surprisingly, he only began his journey in athletics in 2018, at the age of 23. Prior to that, he had attempted a career in baseball, a path that some other notable Dominican sprinters, such as Félix Sánchez, Luguelin Santos, and Arismendy Peguero, have also explored.
González, often nicknamed "Baní," hails from a humble background in Baní. He secured the gold medal at the Santiago 2023 Pan American Games with a remarkable time of 10.30 seconds, narrowly defeating Felipe Bardi (Brazil) and Emanuel Archibald (Guyana), both with times of 10.31 seconds.
His journey in athletics began under the guidance of coach Jordanis Reynoso, a La Romana native residing in Santo Domingo. In 2022, González made a coaching change and joined the training under coach José Rubio, who was initially contacted through decathlete José Miguel Paulino.
José González's accomplishments also include winning a silver medal at the Central American and Caribbean Games in San Salvador in 2023, and he currently holds the national record for the 100 meters sprint.