Palladium Hotels & Resorts joins Earth Hour celebration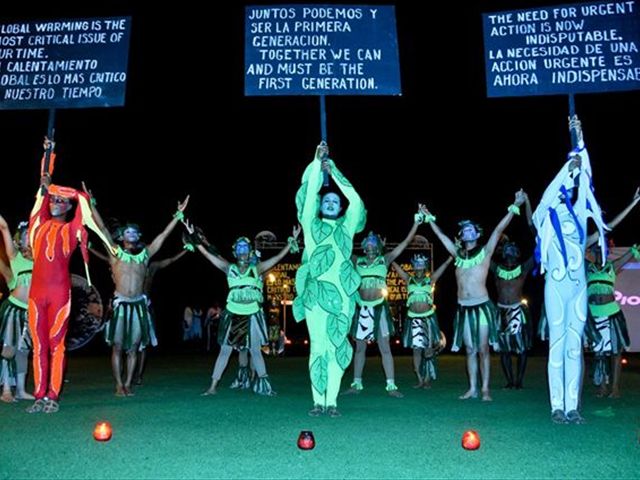 Punta Cana, Dominican Republic.- In order to achieveawareness among the population about the damage that the planet is sufferingbecause of climate change and global warming, the Palladium chain resorts joins,for the seventh consecutive year, the global cause "Earth Hour."
Earth Hour began in 2007 as an event to turn off the lightsand raise awareness of climate change, also it aims to invite individuals,organizations, businesses and governments to make commitments to help reduceemissions of greenhouse gases.
This year, the celebration, sponsored by the WWF (WorldWildlife Fund for Nature), will be held on Saturday March 19 and PalladiumPunta Cana Resort has arranged a day full of activities, which are designed sothat visitors can participate collaborate and simultaneously enjoy thispleasant celebration in favor of nature.
The event will begin with a contest of "Painting Environment"where entire families can participate and draw the planet they dream of living oneday, later will enjoy the Family Ecological Tour, which will visit theecological zones that protects the complex and to which it is committed sincecoming to Dominican soil. In addition to these activities, visitors will bepart of the Photo Contest, dance and enjoy the live music, until the time tostart the countdown toward Earth Hour.
It will be exactly at 8:30 pm when the Earth Hour Partystarts with fireworks show accompanied by music and many more surprises.Finally, at 10:30 pm an International Show, with which the Palladium Complex seeksto encourage guests to participate and get involved with actions for the planetthat will be showcased.
Palladium Hotels & Resorts reaffirms commitment to theenvironment daily, implementing several actions as part of their corporatesocial responsibility strategy, which are backed by major internationalcertifications with that purpose, such as: Earthcheck, a leading internationalcertification benchmarking and sustainability management systems; TravelifeGold, International certification in sustainability awarded by tour operatorssuch as TUI, Thomson and Kuoni; Blue Flag certification awarded to beaches byhaving control water parameters, visitors environmental education andinformation, environmental management of the beach, management of flora andfauna of the beach and security therein; Top Companies, recognition forperformance and organizational culture of the company; among others.
Palladium Hotels & Resorts has a presence in theDominican Republic with properties such as the Dominican Fiesta Hotel &Casino in Santo Domingo and the resort in Punta Cana, which includes hotels:Grand Palladium Bavaro Suites Resort & Spa, Grand Palladium Palace Resort,Spa & Casino, Grand Palladium Punta Cana Resort & Spa and The RoyalSuites Turquesa by Palladium.
For more information, call from USA: 888 237 1226 Canada:866 685 8524, International: (52) 984 873 48 26 & 25, Mexico: 01,800,9901234 or visit www.palladiumhotelgroup.com