Dominican Republic's top golf tourism event targets marketing strategies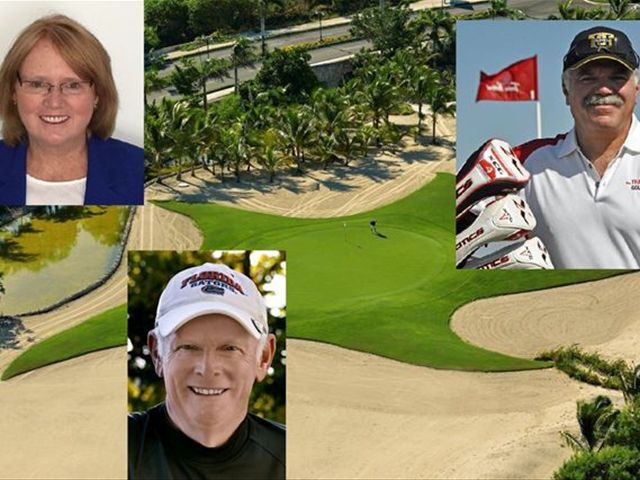 Punta Cana, Dominican Republic.- As part of the thirdedition of the Dominican Republic Golf Travel Exchange 2016 set from September 10to 15 at Bavaro-Punta Cana, the seminar "Golf tourism in the DominicanRepublic and global marketing strategies" will be offered to strengthen thecountry's leadership as a golf tourism mecca.
What has become the country's top golf tourism event, thisyear is slated for the Barcelo Bavaro Palace Deluxe hotel, with expertsincluding Theresa McCann, director of the Strategic Partnership NBC Group, who'lldictate the conference "A multimedia strategy to reach the influentialindividual traveler and with the most purchasing power," as well asRussell Kirk, Golf Channel photographer and aerial videos producer, who willspeak about "Winning in the art of photographing golf courses and playingthe game of drones," during his first visit to Dominican Republic.
Also speaking will be Claudio De Marchi, North America executivefor the International Association of Golf Tour Operators (IAGTO), who participatedwith a conference in 2015 and this year will present the "Report of theIAGTO on a base plan and geo-marketing for golf markets."
McCann is director of NBC Group Strategic Alliances for NBCSports. He joined Golf Channel in March 2005 after a 21-year career in the NewYork Times; he worked for 17 years in Golf Digest and for a period of fouryears he was responsible for managing the company New York Times Travel. Partof its responsibilities in the NBC Sports Group businesses focus on travel and golftourism through Travel Channel.
Kirk has worked closely with leading designers of golf andgolf hotels during the last 20 years, capturing images that reflect the beautyof the most coveted links worldwide, and his broad portfolio includes arterial imagesof more than 340 courses and can be viewed on his websitewww.golflinksphotography.com.
De Marchi said he's very pleased to be back in theDominican Republic and participate in DR Golf 2016, an event that has become aclassic in its genre and seeks to establish the country as the Caribbean's golfdestination icon.
The Dominican Republic Golf Travel Exchange will also hosta workshop with 30 local suppliers to forge business relations with touroperators and travel agents worldwide.
In this edition, for the first time will be attended by delegationsof tour operators from Australia and the United Arab Emirates and the return oftraditional destinations like the United States, Canada, Czechia, Germany,Mexico, Argentina, Colombia, Venezuela, Puerto Rico, Spain, Paraguay, Italy andFrance, among others.
Receptive operators, travel agents and specializedinternational golf media will also be present, while from the country will takepart managers of golf courses and hotels and major institutions involved in theactivity.
This time DR Golf 2016 includes a three-day tournament tobe played in scramble pairs, with the first round held at Iberostate Golf andIberostar Grand in the Punta Cana-Bavaro area; the second at Dye Fore Casa deCampo in La Romana, and the third at The Lakes of Barceló Bavaro Palace Deluxe.
DR Golf 2016 sponsor Institutions and companies: Ministryof Tourism, Banreservas, Banco Popular, International Association of Golf TourOperators (IAGTO), The Lakes, Barceló Hoteles, Casa de Campo, Dye Fore,Iberostate, Iberostar, Cool Haven, Vpar, Turaser, Stella Artois, IVI, HotelesHodelpa and Puros de Hostos.