Kick-start your healthy New Year's resolutions at Dominican fitness getaway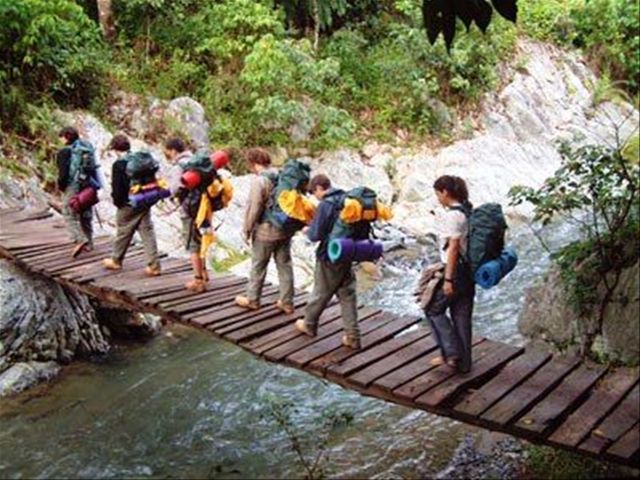 Dominican Republic, /PRNewswire.- DominicanRepublic's all-inclusive resorts and world-class, white-sand beaches beckontravelers from all over the globe for rest and relaxation. But with the newyear calling – and new fitness resolutions for 2017 – travelers should considerjetting to Dominican Republic for a fitness or wellness getaway. From outdooractivities and wellness retreats to luxurious hotel gyms, there are exerciseoptions for every type of fitness getaway this winter.
"Dominican Republic's wide range oftravel options and activities may surprise travelers. Our country is soversatile, not only are we the premier destination for beach vacations, but wehave the natural playground and high-quality service perfect for a fitnesstrip," said Magaly Toribio, marketing advisor for the Dominican RepublicMinistry of Tourism. "There are so many exciting attractions to explore,you will stay active no matter where your trip takes you."
Home to both the highest and lowest pointsabove sea level in the Caribbean, the boundless array of outdoor activitieswill keep your muscles moving. For travelers looking for something lessrigorous, yoga classes can be found in tucked-away bungalows. With so much tokeep you moving on a wellness getaway in Dominican Republic, you can save theR&R for home.
Hiking Up a Sweat
Dominican Republic's lush greenery andimpressive mountain views can't be found in any gym, so skip the treadmill andopt for a nature walk or hike. The country's most rigorous hike, Pico Duarte,located in the central part of the county, is the highest peak in theCaribbean. Reaching an elevation of 10,125 feet, travelers can embark on atwo-, three- or four-day trek to the top that is sure to challenge people ofall fitness levels. The hike offers views of varying landscapes from tropicaltrees to cloud forests.
Another popular hike is through the ÉbanoVerde Scientific Reserve, which is also located in the central area ofConstanza. Hiking through the stunning Ébano Verde Scientific Reserve, which isalso used for environmental research, is more than just a cardio workout; itwill keep your mind active with access to spotting 600 different species offlowers and plants and more than 100 different types of birds. The town ofConstanza also recently added a bicycling route that showcases localplantations and educates visitors on the growth of local crops. So, whether youtravel on foot or bike, Constanza is worth the stop.
After a hike, visit the Monument of thePyramids in Constanza, an ecological and tourism destination located at anelevation of 7,217 feet in Valle Nuevo National Park. The Constanza area isbordered by four national parks, so there's also plenty of wide-open space forpitching a tent and spending a night under the stars. Since Constanza is amountainous region, its naturally cool temperatures offer brisk sleepingweather perfect for camping.
Hotel Gyms That Carry Their Weight
Dominican Republic's high-quality hotelscater to a traveler's every need, so it's no surprise that hotels are equippedwith impressive, full-service gyms. Having access to a gym in your hotel meansthere's no excuse for leaving those running shoes at home. What's more – manyresorts offer group exercise programs so travelers don't have to feel the guiltof missing their morning exercise class. Plenty of the all-inclusive resortsprovide group fitness classes like kickboxing, boot camp or group cardiosessions on the beach.
It's also common for popular fitness expertsto bring their classes to hotels so vacationers can try a new and excitingfitness class on their trip. Les Mills, the world's largest provider ofmovement-to-music fitness, offers group classes at one of Punta Cana's newestall-inclusives. Another trendy workout experience, FloYo, the practice of yogaon floating paddleboards, has made its way to a Dominican Republic hotel,providing travelers no shortage of new and exciting exercise classes.
Still looking for more at your hotel? Trygoing for a run along the beach. Dominican Republic's white-sand coastline goeson for nearly 1,000 miles, which means there's more than enough beachline for amorning run.
Exercising Your Mind on a Wellness Retreat
A rising travel trend, wellness retreatsoffer travelers a chance to forget about the busyness back home and focus onexercising their mind, body and soul. Yoga retreats can be found throughout thecountry, but are especially popular in the lush ecotourism hotspot of Samaná.The area's breathtaking landscape, complete with waterfalls, mountains andmangroves, provides the perfect balance of nature and tranquility for a yogaretreat. Travelers can also opt for a yoga class on the beach to unwind.Sometimes, taking a deep breath is just what the doctor ordered.
Classes and retreats welcome yogis of alllevels and practices, including acro, ashtanga, ahtah, asan and more. Somewellness retreats even provide health professionals for a complete wellnessexperience. There are also several meditation centers that offer more wellnessretreats to help with pain issues and/or stress management.
So whether you are searching for meditation,spirituality or strength training on your wellness getaway, Dominican Republichas it all.
About Dominican Republic
Surrounded by the Atlantic Ocean on the northand the Caribbean Sea on the south, our lush tropical and paradisiacal countryboasts nearly 1,000 miles of coastline, magnificent resorts and hotels, and avariety of sports, recreation and entertainment options. Here you can dance tothe pulse pounding thrill of the merengue, renew in our luxurious and diverseaccommodations, explore ancient relics of centuries past, delight in deliciousDominican gastronomy or enjoy ecotourism adventures in our magnificent nationalparks, mountain ranges, rivers and beaches.
Known for our warm and hospitable people,Dominican Republic is a destination like no other, featuring astounding nature,intriguing history and rich cultural experiences like music, art and festivals,plus uniquely Dominican specialties such as cigars, rum, chocolate, coffee,merengue, amber and larimar.
Dominican Republic features the best beaches,fascinating history and culture, and is a chosen escape for celebrities,couples and families alike. Visit Dominican Republic Ministry of Tourism'sofficial website at: www.GoDominicanRepublic.com.