Approved: plan to manage national park with spectacular waterfall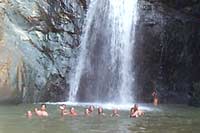 Santo Domingo.- The Environment Ministry on Tuesday announced the approval of the Management Plan for Baiguate National Park, in Jarabacoa (central), to incorporate key stakeholders to plan and implement a "participatory mechanisms and enforce Environment and Protected Areas and Biodiversity Sector laws 64-00 and 202-04."
Resolution 0010-2017, issued on March 20 orders the execution of the Baiguate National Park Management Plan for a period of five years.
The protected area of ​​52.44 square kilometers is located 3.75 kilometers south of Jarabacoa. Its main attraction is the spectacular waterfall Salto de Baiguate, a popular swimming spot among locals and some visitors.
In a statement, Environmental said the Resolution is a technical and normative document that contains the set of measures on the protected area.
"It establishes specific lines of work and standard the activities that are allowed, indicating in detail the form and the places where it is possible to carry out these activities, within the framework of a mechanism of shared participation, between the Ministry of Environment and Natural Resources and the institutions and organizations that in one way or another affect the protected area and its surroundings."