Cibao Airport announces Haiti, Turks & Caicos flights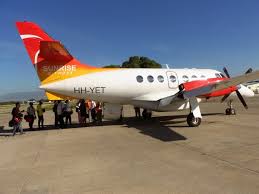 Sunrise. Photo flaashhaiti.com
Santiago.- Two new airlines on Monday announced regular flights from Cibao International Airport to to Port-au-Prince (Haiti) and Providenciales islands (Turks & Caicos).
Since March 31 the carrier Sunrise Airways began with flights on Friday and Sunday to Port-au-Prince, whereas Caicos Express will do so from April 7, to Providenciales, every Thursday and Saturday.
Cibao Airport CEO Félix García called the new airlines' connections of great value to the terminal. "These new airlines arrived in good time, as we're celebrating the 15th anniversary of the start of operations at Cibao International Airport."
Cibao covers several routes not only to the United States, but also the Caribbean and Central America.