Big investments in the offing, but Malecon eyesores must first go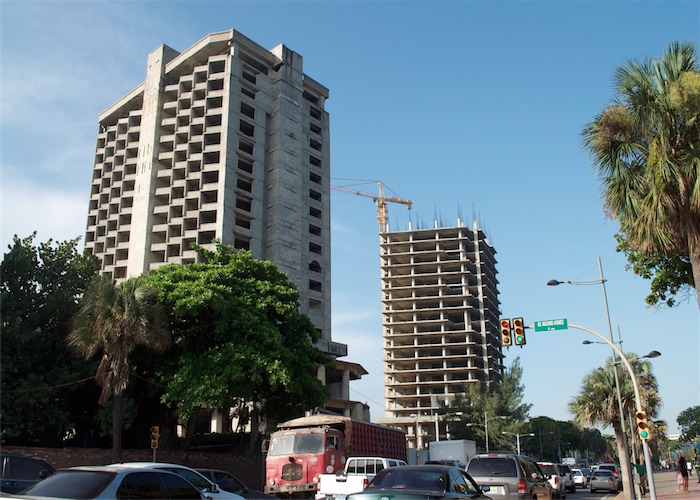 Despite cranes, both constructions have been halted for over one decade (forefront) and over 2 decades, background (El Prado). photo merengalablogspot.com
Santo Domingo.- The tourism sector makes multimillion-dollar investments in the offing in the capital's downtown and seaside avenue Malecon, including four hotels that will open soon, but it first has to clean up the hulks abandoned to their fate for years.
Santo Domingo Hotels Association president Roberto Henríquez said the two large towers on Maximo Gomez Av. whose construction was abandoned long ago must be demolished, because in his view they cast an image of bankruptcy in the area.
He said the owners of the vacant lots must be forced to clean them; street lighting must improve and truck traffic along that route definitively barred. "They constitute a danger for those who visit that place."
The hotelier said he hopes that the numerous businesses will be able to recover, after having gone bankrupt, precisely as a result of the abandonment which the Malecon was subjected to.
Eyesore
Henriquez called moles the two buildings which have become an eyesore in front Güibia beach. "They present the worst face of the Malecon," at a standstill for years, and doubts that they can be recovered.
"What those buildings house in the lower part is a group of drug addicts, prostitutes and other vermin, which drive visitors and investment away."