Expedia announces Value Add Promotions at Dominican DATE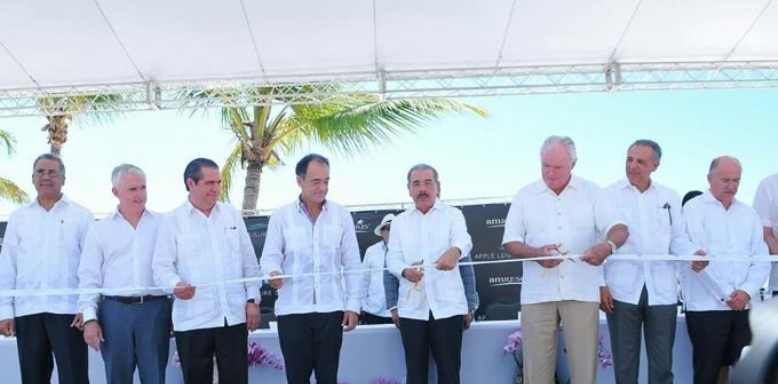 President Danilo Medina inaugurated a major hotel and DATE
Enabling hotel partners to differentiate their property, increase bookings, and maximize their revenue
Punta Cana, Dominican Republic.- The Expedia group, the world's largest online travel company, is officially launching Value Add Promotions on Expedia(r) PartnerCentral in the Caribbean. With Value Add Promotions, hotel partners can create unique travel offers that help draw attention to their property, allowing hotels to differentiate and maximize their revenue by offering complimentary amenities that enhance a traveler's stay.
Value Add Promotions helps hotel partners promote their property across Expedia group brands by allowing travelers to clearly distinguish a hotel's offering. The traveler is then able to select the option that best meets their needs.
Value Add Promotions includes over 40 categories ranging from Wi-Fi to room upgrades and recently became available to hoteliers in the U.S. According to Merrill Research and verified by an Expedia survey[i], the top five most desired amenities, are free Wi-Fi, special rates, loyalty points and breakfast. The product will be formally introduced to the Caribbean market at the Dominican Annual Tourism Exchange (DATE) in Punta Cana, which saw substantial growth in 2016 along with the rest of the country.
The Expedia group reports that during 2016 when compared to 2015, the top in-demand destination for the Dominican Republic was Punta Cana, while Samana-Rio San Juan saw the highest growth at more than 45% followed by Puerto Plata, at 20%. The Expedia group also reported that package bookings saw steady growth in 2016 YoY and they continue to dominate at over 55% of the demand for the Dominican Republic, a positive for partners as they generate higher length of stays. The top volume destination for packages is also Punta Cana, but again Samana-Rio saw the highest growth at more than 50%.
As expected, the U.S. continues to be the top feeder market for the country in 2016 YoY, generating significant demand at 85%. However, European travelers have been increasingly interested in the Dominican Republic. Switzerland, for example, led with triple digit growth YoY, while the following European countries also saw significant growth:
*   Denmark with nearly 35% growth
*   Spain with more than 45% growth
*   Finland with nearly 80% growth
Most travelers to the Dominican Republic arrived in the summer months of June, July, and August. During this time, resort rates were at their most affordable, which incentivized travelers from all over the world to visit the destination – especially U.S. tourists who made up over 80% of travelers during these months.
"With a strong hospitality foundation and idyllic beach weather, the Dominican Republic continues to be a popular Caribbean destination for travelers from major markets like the U.S., and growing markets like Europe and South America," said Miriam Hernandez, Area Manager for the Dominican Republic, Expedia group. "We are proud to support the destination with the announcement of our newest product to our valued hotel partners. With so much competition in the thriving Caribbean market, hoteliers can use Value Add Promotions to stand out from other properties and help drive interest, bookings, and better reviews to their properties."
Expedia's Dominican market management team will be attending DATE to meet with partners to discuss how to best utilize this new product. Expedia will also host an E-Commerce Seminar and a Partner Appreciation Cocktail Reception to recognize hotel partners, including Sheraton Santo Domingo Hotel, Majestic Elegance Punta Cana – All Inclusive, Be Live Collection Marien – All Inclusive, and Excellence El Carmen- Adults Only All Inclusive.
"We are in continuous involvement in the digitalization world and Expedia excels in contributing and taking advantage of all developments to support our hotels during all circumstances," said Daniel Schuhmacher, Director of Sales and Marketing for Paradisus Resorts Dominican Republic. "We see in Expedia a true partner, whose local team in the Dominican Republic is a key factor of the success of our hotels.  It's very important to highlight the value that Expedia adds to our destination with all its cataloged activities and its billboard of clients, which makes us feel confident and grateful to work and count on a partner like Expedia."
As most international travelers to the Caribbean visit for vacation, the region's hoteliers can take advantage of Expedia's Market Management team expertise and this new product to strengthen demand and their bottom line.