Rename Harlem? US-Dominican lawmakers bark yeah, right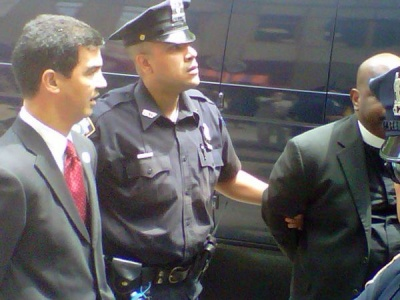 In a file photo this year,, Ydanis Rodríguez (l) is arrested in a protest
New York.- Dominican-born councilman Ydanis Rodríguez, US congressman Adriano Espaillat and other elected officials and community leaders on Tuesday said they oppose a proposal by a group of developers to change the name of Harlem.
"Harlem is and will always be a transcendent community and no business focused on their own interests or landlords will ever change this fact," the elected official said in a press conference.
"The Harlem neighborhood has long been the epicenter of African-American culture, a place that brought Duke Ellington and Langston Hughes to the world, its cultural significance is untouchable and its name resonates in the minds of millions."
"Not only is it a ridiculous notion that any part of this historic community is called SoHa, but it also probably serves poor service to those seeking to enact this name, as well as tourists from around the world included in its program a stop in Harlem on their visits to New York," he said.
"The fact is that Harlem will always be Harlem and no whitening promotion can change this," Rodriguez said.