'Toads and tarantulas' decry truck ban on famous Malecon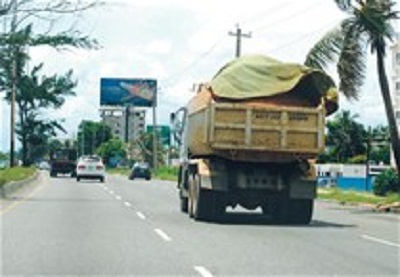 No more trucks....please!
Santo Domingo.- The Dominican Republic Industries Association (AIRD), and a group truckers' unions on Thursday called for the immediate repeal of the ban on heavy vehicles on Santo Domingo's picturesque Malecon.
In a repeat of the Dominican expression to describe unlikely bedfellows "toads and tarantulas" (macos y cacatas), AIRD vice president Circe Almanzar and several truckers union leaders sent a letter to mayor David Collado and Metropolitan Transit Authority (Amet) director Frener Bello, asking to meet in the next few hours with affected sectors.
The partial ban is backed by the hoteliers and other businesses on the Malecon, where heavy traffic has posed a danger to pedestrians, and tourists, in addition to increased pollution.
City Council resolution dated July 14, 2017 allows trucks to use the Malecon, in the span from Lincoln Av. to Montesinos monument, from 12 noon to midnight.