Haiti Tourism chief learns the ropes from Dominican counterpart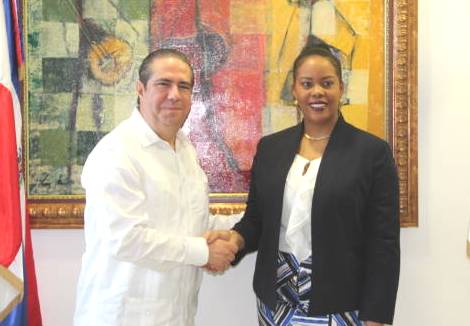 Francisco Javier García, Colombe Jessy Menos
Santo Domingo.- Tourism minister Francisco Javier García met Tues. with Haiti counterpart, Colombe Jessy Menos, to discuss various topics , among them a cooperation agreement .
During the meeting of over an hour, Garcia expressed his willingness to help Menos in everything she needs to ensure Haiti's tourism growth. "The instructions we have is to collaborate with you in whatever you require."
Menos, who thanked Garcia for the "wonderful meeting," said it's the beginning of a relationship that ensures heightened collaboration of both nations in tourism.
She praised García's achievements as Tourism Minister, an experience which her country, "must take advantage of."
"We exchanged a lot of ideas, I learned a lot from him because he's a very experienced man in the area and knows tourism very well, not only in the Dominican Republic, but in the world," she said.
The Haitian official is in the country to observer the preparations leading to the 2nd World Ecotourism and Production Fair from Nov. 16 to 23 in Jarabacoa, hosted by the Science and Art Foundation.