No invasive mammals in Dominican Republic croc realm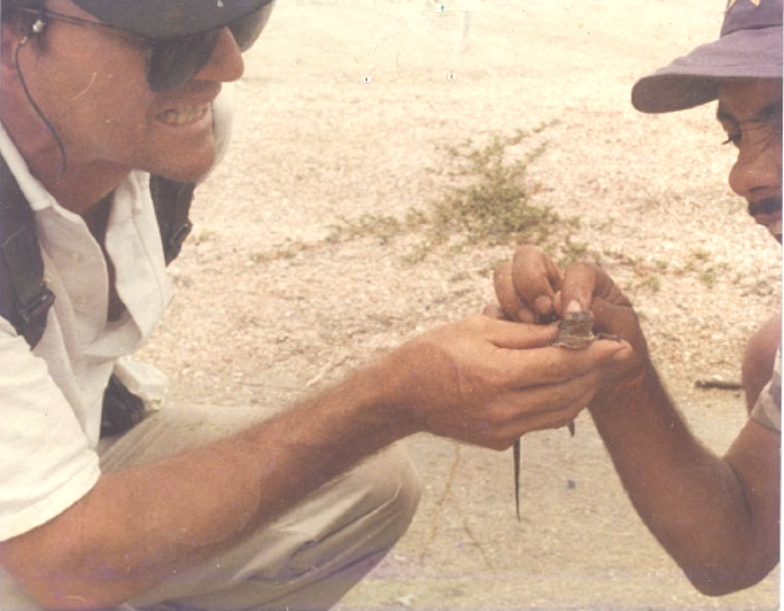 Two (foolhardy) tourists coddle a crocodile hatchling on Isla Cabritos, with mother watching close by.
Santo Domingo.- Environment minister Francisco Dominguez on Wed. announced the elimination the main invading mammals that threatened the biodiversity of Isla Cabritos' (west) iconic ecosystem.
He said that among the animals removed from the island figure 150 donkeys, 264 cats and six cows. Most of the donkeys were relocated since 2012and donated to villagers who live near Lago Enriquillo.
"The removal of the invasive species has taken more than four years and after intensive monitoring, by a team of international organizations and the Environment Ministry, the successful removal of cats-turned wild, donkeys and cows fromisland Cabritos has been confirmed," the official said in a statement.
"The presence of those animals constituted a threat to the native iguanas, in danger of extinction and vulnerable, according to the International Union for the Conservation of Nature (IUCN): the Ricord iguana (Critically threatened) and of the Rhinoceros iguana (vulnerable)."
"The process that concludes today begins with the baseline studies in 2010, when the Dominican Republic was part of the regional project 'Mitigating the Threats of Invasive Alien Species in the Insular Caribbean,' funded by the Global Environment Fund (GEF) and the UN Environment Program (UNEP) and, when those funds were depleted, thanks to the Alliance between the Environment Ministry with Island Conservation and SOH Conservation, other funds were obtained from international organizations, with the support of local organizations such as Grupo Jaragua and the Lago Enriquillo Ecotourism Guides Association (AGELE)."
Crocodile haven
Isla Cabritos is home to an isolated population of the American Crocodile, whose numbers range from as many as 400 to as few as 200, according to local National Park guides.