Pico Duarte facilities refurbished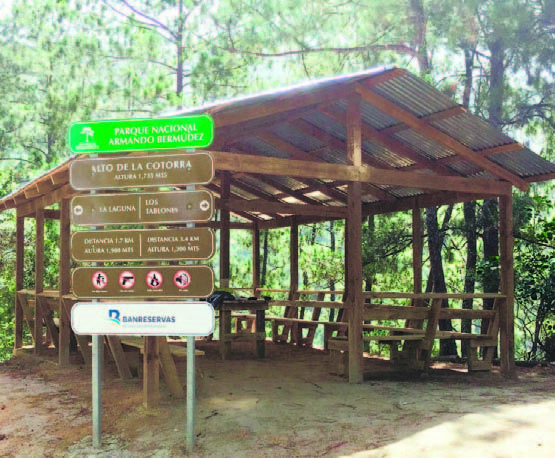 Rest stop in Armando Bermudez National Park. Photo: hoy.com.do
Santo Domingo.- Ecotourism trails and facilities in Pico Duarte, the highest mountain peak in the Caribbean and the main attraction in the Armando Bermúdez and José del Carmen Ramírez National Parks have undergone repair and improvement works as part of a joint initiative headed by the Ministry of Environment and Natural Resources. The aim of the program is to optimize quality of services, safety and facilities for visitors and park rangers.
The improvements include the electricity systems in the Protection and Vigilance Center at La Ciénega, La Compartición and Valle del Tetero, and the installation of a digital radio communications system between the Valle Nuevo Park Protection and Vigilance Center and the Central Headquarters in Santo Domingo.
"Installing electricity and communications systems enables us to be more efficient on a day to day basis, and especially in cases of emergencies, fires and rescue operations," said minister Francisco Domínguez Brito.
He added that "we have carried out maintenance work and repairs to some of the existing bridges, constructed other necessary routes to Los Tablones, new signposting and information in the camping areas on the routes to Pico Duarte and Valle del Tetero, and built new rest, recovery, hydration and emergency assistance centers in the La Cotorra and La Laguna areas."
The roof of the Valle del Tetero complex was repaired and waterproofed, and maintenance work was carried out to the plumbing system and infrastructure.
Domínguez Brito thanked the Desde el Medio Foundation headed by Iván Gómez for its support; which he said had been of vital importance to the execution of this entire program.