Visitors and tourists arrive for Easter break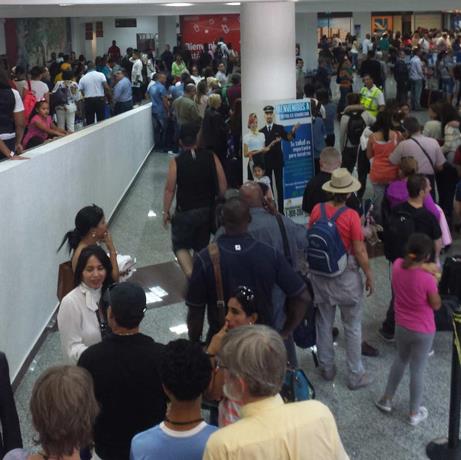 Airport arrivals (file photo) from listin.com.do
Las Americas International Airport, Santo Domingo.- Thousands of foreign tourists and Dominicans who live overseas are arriving in the country on scheduled and charter flights to spend Semana Santa on vacation and spend time with their friends and relatives.
Tour operators say that all of the hotels in Boca Chica, Los Guayacanes, Juan Dolio, San Pedro de Macorís, Bayahíbe, La Romana, Punta Cana, Bávaro and other parts of the eastern region are full.
All flights from the US, Puerto Rico, Panama, Venezuela, Aruba, Curacao, France, Spain and other places are arriving full, and 70% of passengers are tourists, according to the airport authorities.
Arriving visitor numbers show a considerable increase, as well as departing travelers, with thousands of Dominicans traveling overseas.
Airlines serving the Dominican Republic including American Airlines, JetBlue, Copa, Continental, Delta, United Airlines, Spirit, Iberia, Air France and Air Europa are landing with 100% of their seats occupied.
Executives and employees said that no seats were available and all flights have been sold out. They said that this Semana Santa more visitors than ever were arriving in the country.
Between 108 and 110 flights are landing and taking off every day during this peak period.
"All the hotels are full of tourists from different countries which gives us great satisfaction, because the country needs foreign currency."
Passenger flow is expected to continue today Wednesday.