In a cesspool of corruption, the highlands wade in flowers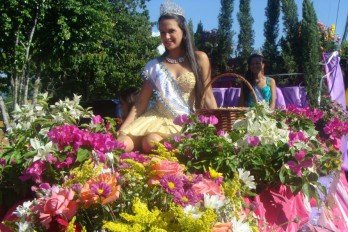 Flowers in Jarabacoa. File
Jarabacoa, Dominican Republic.- As if responding to an urgent plea amid a seemingly endless wave of corruption in the country, the highland city on Wed. announced its 9th annual Festival of the Flowers, from June 21 to 24.
The Dominican Republic's answer to the Pasadena, California's Tournament of Roses is the country's largest parade of floral floats, which will tour the streets of the city in central La Vega province.
In addition to the parade, the event aims to attract more and more visitors to the exhibition of numerous varieties of flowers that grow in the Central Mountains and can be bought in the market prepared for the occasion.
"It's a unique opportunity to be inspired by the magic and energy of flowers and mountain culture," said the organizers.
In the celebration dubbed 'Jarabacoa flourishes for all,' over 60 local exhibitors will participate, including nurseries, agro companies, artisans, florists and hotels.
They said the artisans will showcase handmade products and a sampling of the local gastronomy, real estate, adventure and extreme sports. "As part of the cultural expression there will be painting, poetry to nature, a typical music party, folk poetry and children's games.