Tourism chief strikes deals to attract Japanese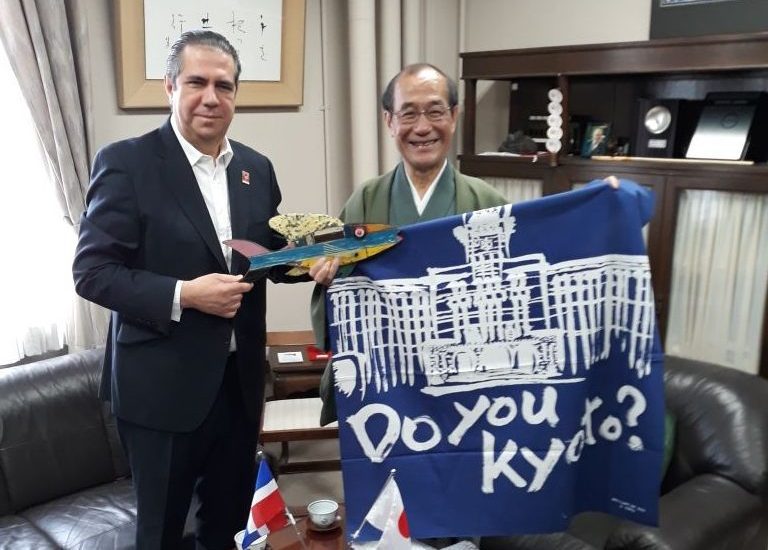 Francisco J. Garcia, Daisaku Kadokawa.
Santo Domingo.- Tourism minister Francisco Javier García on Wed. signed agreements with the Tokyo Mayor's Tourism Development Office and with Japanese airlines, to attract tourists from that Asian nation to the Dominican Republic as a long-distance destination .
In an official visit to Japan, Garcia met with Kyoto mayor, Daisaku Kadokawa, and discussed best practices in the administration of tourism in both countries,.
In a statement, Tourism said also agreed was en effort to nominate cities and towns with a potential for historical tourism to become part of the League of Historic Cities.
The Dominican official held another meeting with representatives of Kyoto Tourism Promotion Agency, where it was discussed collaboration on ways to promote ​​tourism and best practices in that industry.
García invited Japanese technical team to visit the Tourism Ministry in the Dominican Republic and attend working meetings with its officials.
He met with representatives of Japanese airline ANA, to explore possible routes that the company All Nippon Airways can operate in the American continent. "That meeting seeks to increase the air connectivity between Japan and the Dominican Republic and thus increase the number of Japanese visitors arriving on the coasts of the country and the exchange between both countries"
For their part, Japan's Tour Operators Association presented the official in what areas the Ministry can collaborate to increase the number of tourists from Japan to the Dominican Republic.