Dominican Republic gets a high-end US$1.0B+ golf resort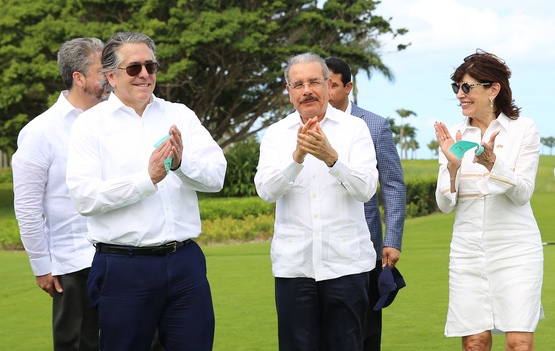 Andre Boersma, Danilo Medina, Robin S. Bernstein
San Juan, Dominican Republic.- US ambassador Robin S. Bernstein, said Thurs. that the Dominican Republic not only shares the same values ​​and good practices of fair and equal treatment with investors, but has the advantage of having a Free Trade Agreement that places the country in a privileged position.
She stressed that the Dominican government has been an important ally in consolidating foreign investment.
The diplomat spoke at ribbon cutting for the high-end tourism project Playa Grande Golf & Ocean Club, headed by president Danilo Medina.
The Arizona-based Discovery Land Company and its partner Third Point LLC developed the real estate tourism project on ​​10 million square meters at a cost of over US$1.0 billion
Vice president of operations and general manager, Andre Boersma, stressed that their presence in the country results from Dominican Republic's stability, openness and, above all, people.
"With a total investment of more than one billion dollars, our will is strong: to achieve the successful development of the country's highest standard of tourism tourist community, a challenge that will undoubtedly contribute to the diversification of tourism in the Dominican Republic."