Dominican Embassy in Canada and Tourism will hold a food and cultural festival in Ottawa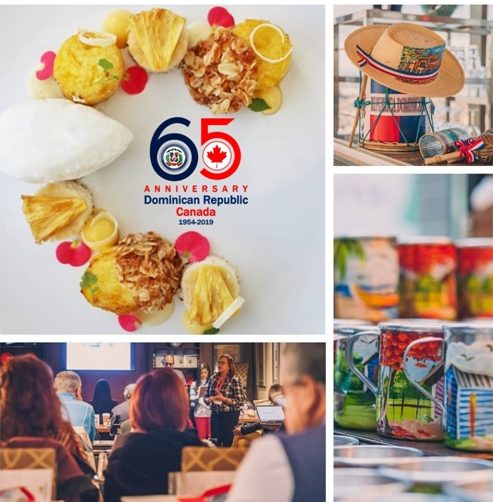 Dominican food and culture celebrated in Canada
Ottawa.  – The Embassy of the Dominican Republic in Canada, in collaboration with the Ministry of Tourism, will hold a three-day Dominican cultural and gastronomic festival in the city of Ottawa to commemorate the 65th Anniversary of Diplomatic Relations between the Dominican Republicand Canada.
The capital of the Dominican Republic , Santo Domingo, has been chosen for the second consecutive year as the capital of gastronomic culture of the Caribbean by the Ibero-American Academy of Gastronomy and the Royal Spanish Academy of Gastronomy, this event presents the perfect occasion to praise Dominican culinary art.
The festival will take place from February 25-27, 2019 at the Sheraton Ottawa Hotel, located in the center of the capital of Canada, and will feature seminars, daily lunches with a menu prepared by the renowned Dominican chefs Indhira Peguero and Paulette Tejada, cultural exhibitions, meetings, business activities and more. With this purpose, the organizers of the festival have been accompanied by prominent actors from the public and private sectors, from key areas such as travel and tourism, health, agro-industry and gastronomy, to bring an interesting, educational and productive event to Canada.
The activities will be attended by the Ambassador of the Dominican Republic in Canada, Pedro Vergés Ciman, who along with the Creole delegation and representatives of the Office of Tourism Promotion of Montreal, on behalf of the Ministry of Tourism, will welcome a diverse group of Canadians made up of airline executives, tour operators, media, entrepreneurs from different areas, members of Parliament and other Canadian officials.
 About the Dominican Republic
The first tourist to arrive in the Dominican Republic was Cristóbal Colón, in 1492. The richness of its history has allowed this country to develop as a destination that offers a great variety of resorts for the taste of visitors around the world, which attracts to more than 800,000 Canadian visitors annually.
Recognized by the International Association of Golf Tour Operators as the number one golf destination in the Caribbean and Latin America, the Dominican Republic has a total of 26 golf courses, luxury hotels, pristine nature and quaint villages with staffed by warm Dominicans. The Dominican Republic has some of the most beautiful beaches in the world, a fascinating history and culture, and is considered an ideal reference point for celebrities, couples and families.
Press releases, photos and the press kit can be found on the official website of the Ministry of Tourism of the Dominican Republic : www.GoDominicanRepublic.com