NATGEO gets close to humpback whales in Samana: Diario Libre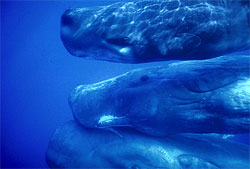 Samana, Dominican Republic.- "It's six in the morning and a multidisciplinary group of ten people board a boat in the bay of Samaná, while the humpback whale watching season is at its peak. It's their tenth expedition in seven countries around the world," reports Diario Libre.
The sun peeks over the horizon while the boat of the National Maritime Affairs Authority (ANAMAR) sails eastward with a calm sea and gentle breeze. It is the tenth day of expedition and despite the weariness the spirits still are upbeat.
The outlet reports having joined the expedition to document a revolutionary study of the humpback whales that visit every winter.
"Every day, from February 26 to March 11, a group of scientists and technicians worked from early morning in search of a biological treasure contained in the exhalation of the whales. This is a fascinating project that has been carried out in seven countries, being the first time in the Dominican Republic."
In Chapter 9 of the NATGEO series, "One Strange Rock" (Now on Netflix), the SNOTBOT project is shown, while working with blue whales in Alaska.