PGA TOUR event tees off at Punta Cana with a US$3.0M purse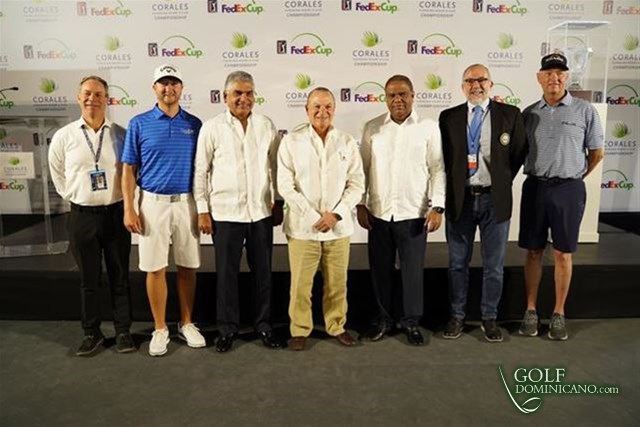 Frank Rainieri, center.
Punta Cana.- More than 130 players from around the world will be competing in the Los Corales Puntacana Resort & Club Championship PGA TOUR that began on Tuesday at Los Corales golf course.
The renowned tournament that will showcase the Dominican Republic to around one billion people in 226 countries has a 3 million-dollar purse for the participants and will give the opportunity to accumulate points for the FedEx Cup and the world ranking," the organizers said in a statement.
The PGA TOUR, the main professional male golf circuit, is held for the second time in the country until March 31. Dominican Republic will be represented by Hiram Silfa, Julio Santos, George Riley, Radhames Peña and amateur Juan Cayro Delgado.
Among the professional PGA players figure Davis Love III, with 21 PGA TOUR victories ; Charl Schwartzel, winner of the 2011 Masters; and Hunter Mahan who has won six PGA TOUR events.
"this alliance with the PGA TOUR sets a precedent in the golf industry of our country, as it contributes to the promotion of the tourist destination, not only as a place of sun and beaches , but also as a golf destination that meets the same world standards as other international fields," said Grupo Puntacana CEO Frank Rainieri.
John Norris, PGA TOUR executive, said he was happy to be back in this second edition of the Corales Championship and to be part of this significant moment in the Dominican Republic.
Event Program
Parallel to the tournament, the Corals Puntacana Resort & Club Championship of the PGA TOUR features a wide agenda of activities for all spectators; a Special Guest area in the Los Corales Clubhouse and a "Food Trucks" area with tastings, live music and other entertainment.
Course
Los Corales golf course, designed by Tom Fazio, is located at Puntacana Resort & Club, next to cliffs, bays, natural oceanic inlets, inland lakes and coral quarries of the Caribbean Sea. It has six holes facing the sea and culminates with three holes, known as the "Devil's Elbow," the most challenging of the course, which test the golfer's skills.
The "Devil's Elbow" is positioned between the most spectacular and difficult final holes in the world.