Bureau of conventions to raise occupancy in Santo Domingo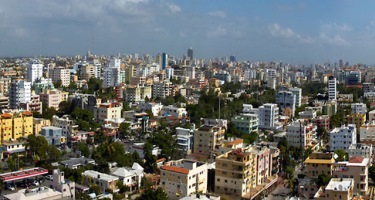 Vista de la Ciudad de Santo Domingo desde el Banco Central hoy, miécoles 30 de diciembre de 2009. Santo Domingo, Republica Dominicana Foto : © Roberto Guzman
CAPITAL HOTELIERS WORK ON THAT PROJECT

 President of the AHSD highlights growth of the hotel plant

 They see great advantages to attract the meetings and incentives market
The president of the Hotel Association of Santo Domingo ( AHSD ), Roberto Henríquez, explained to arecoa.com that they work on the creation of a convention bureau that will allow the attraction of groups of meetings and incentives to the Dominican capital to boost tourism and hotel occupancy.
He indicated that work to boost the sector and for hotels to increase occupancy continues, which will make their growth and expansion possible, as reflected in the Santo Domingo hotel plant with the next openings.
"As for example the inauguration of the Homewood Suites by Hilton hotel that will be located on Winston Churchill Avenue, the new construction of the Holiday Inn, which is still in the planning stage, and the remodeling of the Embassy Suites and the Radisson," said Henriquez.
He said that in addition to working hard in the convention bureau, the AHSD focuses on creating events that serve as a magnet for meeting tourism.
For this, he recalled the next celebration of the SDQ Santo Domingo MICE activity, a platform for the sale of groups and conventions, which will be held on October 7 and 9 at the Renaissance Santo Domingo Jaragua Hotel & Casino.