President attends the inauguration of Hilton hotel in SD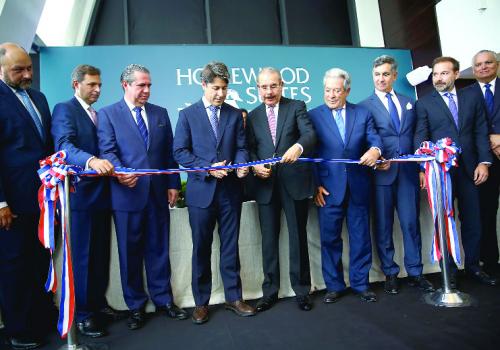 President Danilo Medina, together with executives of the Homewood Suites by Hilton, made and cut the ribbon that the hotel left open.
Homewood Suites by Hilton, which is part of Hilton's "all suites" portfolio, inaugurated its 500th property and its first hotel in the Caribbean region, Homewood Suites by Hilton Santo Domingo, with the presence of President Danilo Medina.
The hotel is located on Winston Churchill Avenue, number 107 of the National District.
"A thriving metropolis and capital of the Dominican Republic, as well as the largest city in the Caribbean, Santo Domingo, continues to be the top destination in the region," said Jorge Giannattasio, senior vice president, and chief operating officer for the Caribbean and Latin America.
Designed for people looking to travel on their terms, Homewood Suites by Hilton offers its visitors the comfort of home, whether traveling for work or pleasure. The first hotel of the brand in the Caribbean offers 145 new rooms, contributing in turn to the growth of local tourism.
The opening ceremony was attended by the chief executives of Inversiones Robledo, the company that owns the property, Rafael Blanco, Carlos Tejera, Eduardo Tejera, Jorge Volcán, Rafael Blanco Canto and Carlos José Martí, as well as Hilton executives, including Jorge Giannattasio, and Rick Colling, global head of Homewood Suites by Hilton.
Also included were the Minister of Tourism, Francisco Javier García, Paola Rainieri, president of the Association of Hotels and Tourism of the Dominican Republic, and the ambassador of the United States, Robin Bernstein.
The Homewood Suites by Hilton Santo Domingo features a contemporary design that combines the comforts of studio rooms and one-bedroom suites, alongside fully equipped kitchens and separate living areas.
Guests will be provided with all the essentials for a reasonable, convenient, and reliable stay, including full breakfast, evening evenings twice a week, wi-fi, and grocery shopping service without additional charges. It has a gym and pool area located on the roof. The property also offers flexible spaces with city views for meetings of up to 15 people.
Its executives said the Homewood Suites by Hilton offers its travelers quick access to downtown attractions such as Acropolis Center and Blue Mall. Visitors have the opportunity to explore the fascinating Colonial City, visit Los Tres Park Eyes or know the beauties of the National Botanical Garden.