Foro Asonahores: Dominican Republic registers historical investments for more than US $ 550 million

 Entity ensures bookings for the end of the year remain strong

 They anticipate recovery and consolidation of the sector by 2022
The Association of Hotels and Tourism of the Dominican Republic ( Asonahores ) celebrated the fourth edition of its "Tourism Investment Forum" with a closing of the year of historical figures in the sector, in particular with investments of more than $550 million in tourism projects even in times of pandemic. The activity was attended by the Minister of Tourism, David Collado, and with the virtual participation of the Secretary-General of the World Tourism Organization ( UNWTO), Zurab Pololikashvili.
Investments include the launch of the new destinations in Miches and Pedernales, the consolidation of the offer in Santo Domingo, with multiple new hotels under development, and the development of Santiago, with investments that aim to consolidate that city as a world-class urban destination. There is also the new Taino Park cruise terminal in Puerto Plata; hotels in Montecristi; the expansion of the eastern destination, with theme parks, multiple new hotels, and remodeling of existing facilities.
In addition to the new projects, the president of Asonahores, Rafael Blanco Tejera, highlighted that the Dominican Republic received 519 thousand foreigners. This historical record exceeds the month of November, the year 2020, 2019, and also 2018. He also noted that future projections are even more optimistic.
"December bookings remain strong, so we estimate that we will close 2021 with more than 4.6 million arrivals. But of equal importance is that in 2022 we are going to consolidate the recovery of the sector as we have historical reservation levels for the following high season.", He assured.
The Forum featured presentations by: Raúl Hoyo, CEO GAM Capital; Alberto Cruz, president of the Excel Group; Joel Santos, general manager of AFP Reservas, and José Gior Ariza, senior partner of Investa Capital Partners, in the panel "Capital Markets: financing alternative for the Tourism Sector."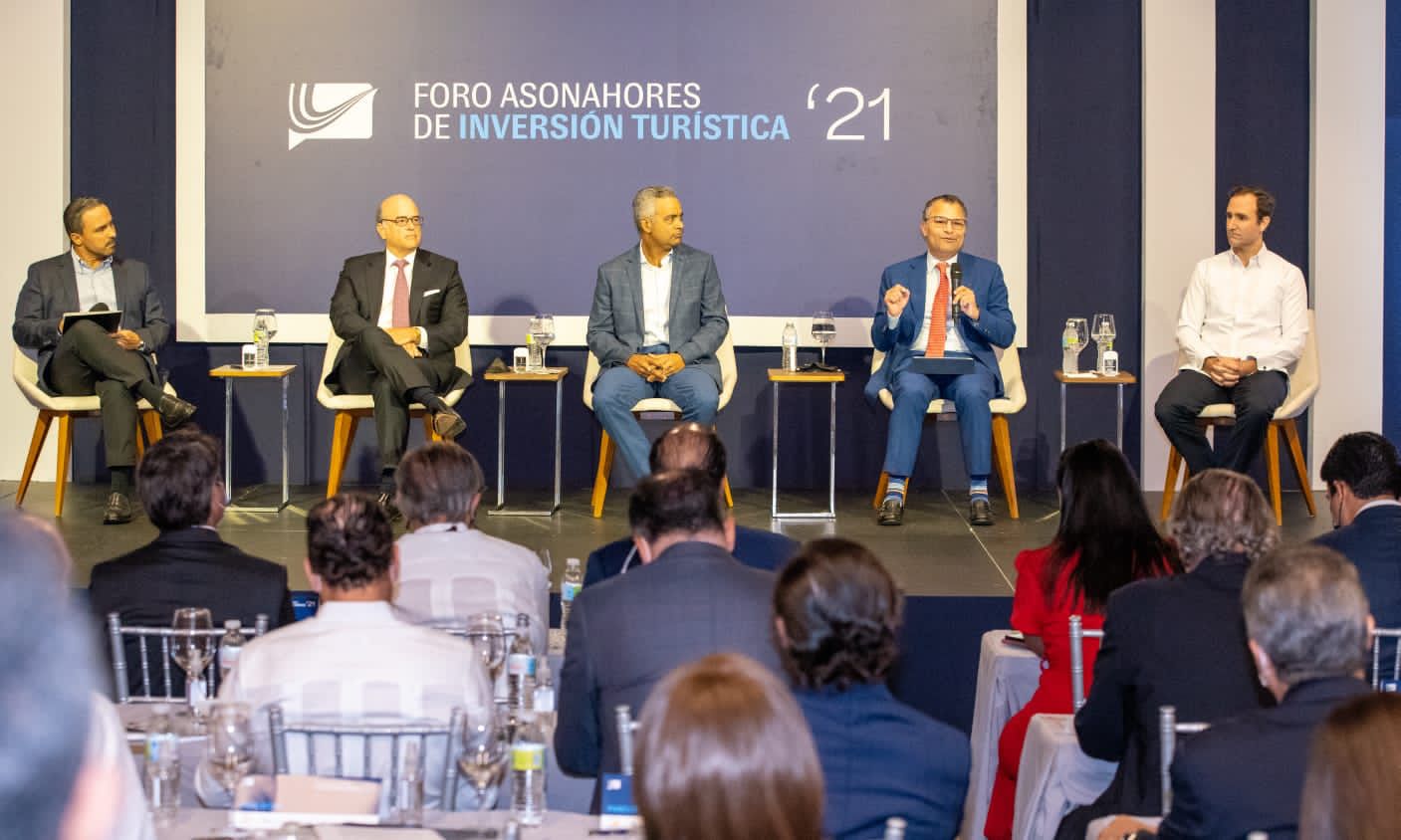 In the second panel of the event, "Investment in Projects in Different Tourist Poles: Pedernales and Miches" participated: Sigmund Freund, director of the General Directorate of Public-Private Partnerships ( DGAPP ); Frank Elías Rainieri, president and CEO of Grupo Puntacana, and Rafael Blanco Canto, executive vice president of Viva Wyndham Resorts.
The discussion entitled "Banking and Tourism: strategic partners" was also held, with Samuel Pereyra, general administrator of Banreservas; Steven Puig, executive president of BHD León; and Juan Manuel Martin de Oliva, vice president of the Tourism Business Area of Banco Popular Dominicano. Those who received recognition for their support to the industry through the financial instruments applied during the recent change in economic dynamics.
The fourth edition of the forum was held in the Epic Center room of the JW Marriott Hotel and had the support of: Banreservas , Ministry of Tourism ( Mitur ), Therrestra , Banco Popular, IDAC , AFP Crecer, Seguros Crecer, Banco BHD León, United Gas, La Nacional, GAM Capital, SURA, Seguros Reservas , United Capital, Primma Valores, Xeliter, Universal, among others.
---