Collado: "We will exceed 7 million tourists, hotels are at capacity"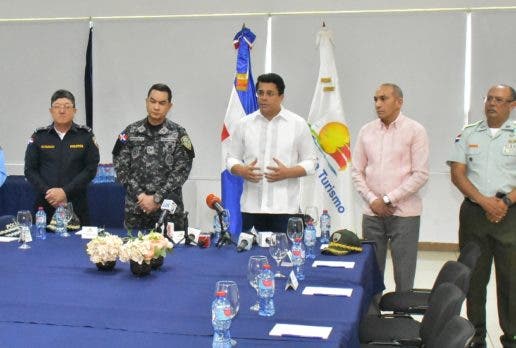 David Collado with national security directors.
The Minister of Tourism, David Collado, assured that despite the snowstorms affecting several U.S. cities and Canada, the Dominican Republic would surpass the 7 million mark in tourist arrivals this year 2022, the country's highest number of visitors ever received.
He revealed that despite the weather situation in the United States, the primary market of tourists to the country, the rhythm of arrivals is maintained and that only on Wednesday, 28th, 30 thousand foreign visitors arrived.
Collado referred to the subject of the arrival of visitors after holding a meeting in his office with the Cabinet of Tourism representatives in security.
He said that as a result of the evaluation of the meeting, there had not been any unfortunate events with tourists in the different destinations, hotels, or airports.
He cited as a positive balance the fact that reservations are at the top in all the hotels in the country, as well as the airlines, so "we are doing well."
The head of Mitur said that President Luis Abinader asked the Tourism Cabinet to meet to reinforce preventive measures in the tourist poles due to the increase of the end of the year festivities.
The directors of the National Police attended the meeting of the tourism security agencies with Minister Collado, Major General Eduardo Alberto Then; of the Specialized Airport Security Corps, pilot Colonel Floreal Suarez Martinez; of the Tourist Police (POLITUR), General Minoru Matsunaga.
Also present were Vice Admiral Jose Manuel Cabrera Ulloa, president of the National Drug Control Directorate (DNCD), and General Ramon Antonio Guzman Peralta, director of Digesett.