Universities sign agreement for sargassum research and management in the Dominican Republic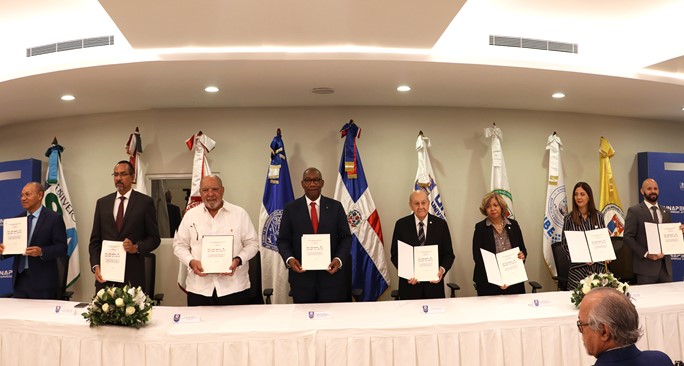 Several universities signed a specific inter-institutional collaboration agreement to create and implement a network for the research, management, and treatment of sargassum in the Dominican Republic.
The project is headed by Apec University and will be subsidized by public and private sector institutions.
The universities that signed the pact were: the Universidad Autónoma de Santo Domingo (UASD), Universidad Nacional Pedro Henríquez Ureña (UNPHU), Pontificia Universidad Católica Madre y Maestra (PUCMM), Instituto Tecnológico de Santo Domingo (Intec), Universidad Iberoamericana (Unibe), Universidad Federico Henríquez y Carvajal (Ufhec) and Universidad ISA (Unisa).
"The presence of sargassum on Dominican beaches not only affects the environment but also one of the country's main economic activities: tourism. This implies a timely, accurate and sustainable intervention in time, which allows to solve the collection of sargassum with a lower operating cost and its use," said Franklyn Holguín Haché, rector of Unapec.
In this sense, Alvin Rodríguez, Research Director of Unapec, said: "With this initiative, a commission will be formed that will be in charge of the operational part of the agreement, composed of the eight research directors of each of the signatory universities."
He pointed out that this will provide answers to this problem since it will allow the development and strengthening of research and the search for solutions based on scientific methods that will contribute to the birth of new technologies.
On behalf of the universities, the rectors Editrudis Beltrán, from UASD; Julio Sánchez Mariñez, from Intec; Odile Camilo Vincent, from Unibe; Alberto Ramírez Cabral, from Ufhec; Ángel María Castillo Brito, rector of ISA University, as well as Juan Gabriel Faxas, vice-rector of Research and Innovation of Pucmm; and Josefina Pepín, vice-rector of Research, Liaison, and Internationalization of Unphu, signed the agreement.