Carnival, the first cruise line to sail with 100 million passengers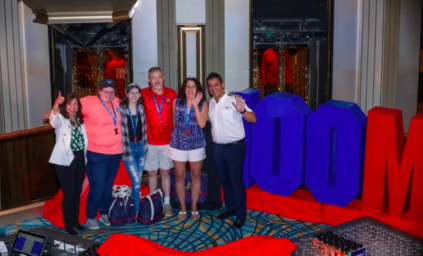 Carnival Cruise Line achieved a major industry milestone by becoming the first cruise line to embark 100 million passengers since its first sailing more than five decades ago. Carnival President Christine Duffy visited Carnival Sunrise as guests boarded the ship at PortMiami, where the cruise line's 100 million-passenger milestone was commemorated.
"We are the first cruise line to reach this incredible 100 million guest mark and I think it is a testament to the fun and inclusive atmosphere that our valued guests and extraordinary team members have created together on board our ships over the years," Duffy said in a statement. "Certainly, there is much more fun to come. We continue to scale up our operations at a rapid pace, with three ships joining our fleet by spring of next year," she added. The milestone comes as Carnival prepares to debut a new ship in May on Carnival Venezia, which will expand its New York offerings from seasonal to year-round.
Carnival Jubilee, a third sister ship to Mardi Gras and Carnival Celebration, will join the fleet and sail from Galveston, Texas later this year, while Carnival Firenze, a sister ship to Carnival Venezia, will begin offering cruises year-round. year from Long Beach, California.