The Corales Puntacana Championship PGA TOUR starts today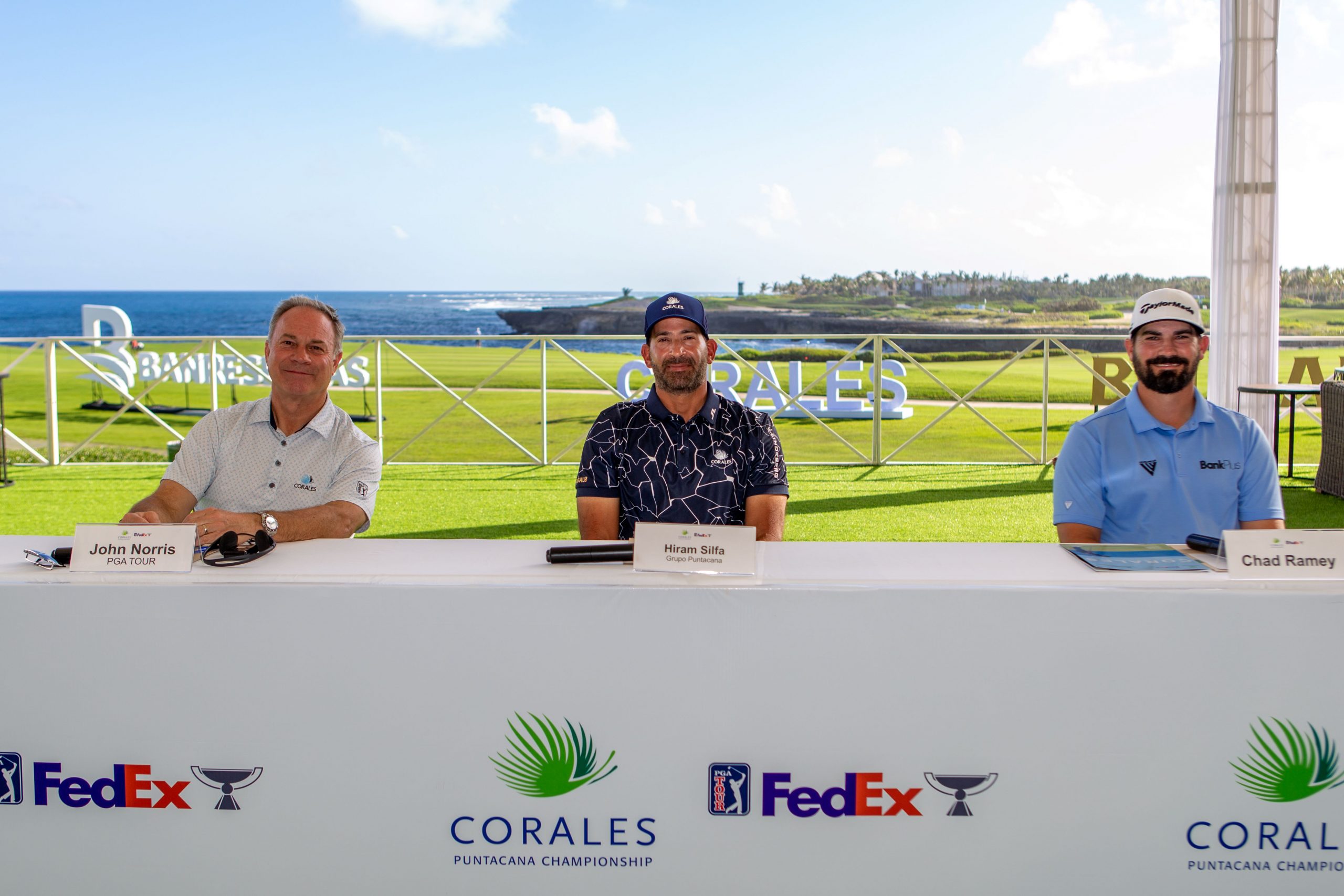 The important event positioned the Dominican Republic on the map of professional golf worldwide and Punta Cana as a leading golf destination in the Caribbean.
Punta Cana, La Altagracia (March 21, 2023)– The sixth edition of the Corales Puntacana Championship PGA TOUR Event officially began at the Corales golf course, taking place until Sunday March 26, with an increase in its purse of $100 thousand dollars reaching $3.8 million dollars this year, the highest in the history of Dominican sports, and valid for 300 FedExCup points.
120 players from the United States, Europe, and Latin America will be competing for the title of "King of Corals", facing past tournament champions Chad Ramey (2022), Joel Dahmen (2021) and Brice Garnett (2018). Dominic Bozzelli, winner of the Korn Ferry Tour in 2016, will be competing in this sixth edition along with the Dominican players Hiram Silfa, Juan José Guerra and Radhamés Peña.
Also participating are renowned players such as Charley Hoffman, winner of 4 PGA TOUR victories and director of the PGA TOUR Players Advisory Council; Bill Haas, past FedExCup winner; and Emiliano Grillo, winner of the PGA TOUR and best ranked in Latin America within the circuit.
During the event's inaugural press conference, held at the Corales golf course clubhouse, the director of golf courses at Puntacana Resort & Club and professional player, Hiram Silfa, said: "on behalf of Grupo Puntacana and its Puntacana brand Resort & Club, it is an honor to be the hosts and organizers of the first PGA TOUR in the Dominican Republic for the sixth consecutive year and to be able to successfully carry out each edition of the Corales Puntacana Championship at our Corales Golf Course. As a professional tournament player, it's an incredible experience to be able to represent my country on a PGA TOUR."
"I have very good memories of my victory at the Corales Puntacana Championship. It was a springboard for my career and something I will never forget. I am excited to return to the Dominican Republic to defend my title and enjoy the experience among the wonderful people of Punta Cana" said Chad Ramey, defending champion of the Corales Puntacana Championship.
John Norris, Senior Vice President of Business Affairs for the PGA TOUR Tournaments, stated that: "each edition of the Corales Puntacana Championship surpasses the previous one and this year is no exception. Having an incredible sponsor and host like Grupo Puntacana and Puntacana Resort & Club, we are prepared for an exciting and successful week, in which the eyes of the world will be on Punta Cana and the Dominican Republic. The PGA TOUR is honored and proud to be a part of this important international event, which means so much to our players, fans, and the local community."
Activities and entertainment
The event will feature a wide variety of recreational activities, food truck areas, a skybox facing the sea, live music, entertainment for the whole family, and a general parking area from Thursday to Sunday, starting at 5:00 p.m. On Saturday March 25 there will be a great concert by the singer Manny Cruz.
To purchase day passes and tickets during the four days of competition, those interested can visit www.Tuboleta.com.do, the Visitor's Center of Puntacana Resort & Club, and at Will Call starting on Wednesday, March 22.
Live broadcast
The event will be broadcast live on Golf Channel on Thursday, March 23 and Friday, March 24 from 10:30 a.m. to 5:30 p.m. – 1:30 p.m., and on Saturday, March 25 and Sunday, March 26, from 2:00 p.m. – 5:00 pm. At the local level and as Media Partners, CDN Deportes will be broadcasting from the Corales golf course capturing the incidents of the event, and on Sunday March 26 they will be broadcasting the award ceremony live at 5:00 p.m. Meanwhile, Listín Diario and Ritmo Social will be carrying out special coverage at the print and digital level.
Sponsors
The sixth edition of the Corales Puntacana Championship is presented under the auspices of the Ministry of Tourism (MITUR), Banreservas, Universal, Texaco GB Energy, Brugal, Equifax, Punta Cana International Airport, DOMICEM, Puntacana Resort & Club, Aiport Team Solutions, The Westin Puntacana Resort & Club, Tortuga Bay Puntacana Resort & Club, Martí, Claro, Punta Cana Medical Center, Autohaus, Club Car, CDN Sports, Listín Diario, Ritmo Social, Grupo Raya, Grupo Viamar, Cerveza Canita, Caribbean Catering Services (CCS) , Coca Cola, Freixenet Cava, Aperol Spritz, Cava Alta, IMCA, AVIS, DP World, Tracks, Duty Free Americas, Café Santo Domingo, Runners Adventures, United Pretoleum, GULF, LLODRA, Baskin Robbins, DBI Industrial, Serviport, Vitalie, Grupo Dupla, Picky Plants, Spectro, Grayline, KG Constructora, Tu Boleta, Altron Trading Co, Codelpa, Emilio's, Coolekos, INPROTEC, Sky Cana, The Butcher Shop, BlueMall Puntacana, Hartemania, Hartemontajes, Tribe & Folk, Mamitas Tequilla & Soda, Hola Punta Cana by Oscar Cerda and Onsite Caribbean.
About Corales Golf Course
Corales Puntacana Resort & Club, home of the first and only PGA TOUR Event in the Dominican Republic, was designed by world-renowned architect Tom Fazio. Opened in 2010, it is located next to the cliffs, bays, natural oceanic inlets, inland lakes, and coral quarries of the Caribbean Sea. It has 18 holes, six of them facing the sea, and culminates with its last three holes known as the "devil's elbow", which ranks among the most spectacular and difficult final holes in the world.