Sosúa beach vendors and Tourism reach an agreement on the construction of plazas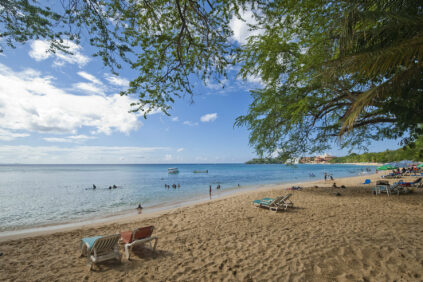 The Ministry of Tourism (Mitur) and the Sosúa Beach Vendors Association have agreed to establish a work schedule to finalize the location of vendors' squares and designs of establishments in the spa. The work schedule will begin on April 25 and will include commissions from the Executing Unit for the Readjustment of Neighborhoods, the Ministry of Tourism, the Governor's Office, and the Puerto Plata Senate. Additionally, representatives from hotels, private companies, and the Neighborhood Council of the municipality will be present, along with Father Rogelio Cruz as a special guest.
Patricia Mejía, the Vice Minister of Destination Management at Mitur, emphasized the need to make adjustments to the premises that will be in place. She mentioned that craft stores require specific footage, while restaurants need a different type, which is different from the macro design that was carried out initially.
It is important to note that the Ministry of Tourism announced the construction of squares in Sosúa on June 25, 2022. The plan included an investment of 615 million for the clean-up and demolition of Sosúa. During the announcement, President Luis Abinader and Minister of Tourism, David Collado, had led the act.
This agreement between Mitur and the Sosúa Beach Vendors Association shows the commitment of both parties to work towards a common goal of improving the infrastructure of the spa. The involvement of various commissions, private companies, and the Neighborhood Council indicates that this project is being taken seriously and that everyone is working towards a unified goal.