The Moon Palace Complex: a controversial Hotel Project in Punta Cana-Bávaro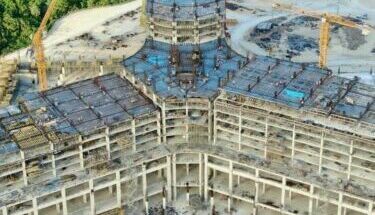 The Moon Palace complex, a hotel project planned by Mexican businessman José Chapur, is set to become the largest complex in the Dominican Republic (DR) in a small space of land. Comprising several towers, it is due to be operational in 2024 and will be visible from many places in the Punta Cana-Bávaro destination. Despite its positive reception among visitors, the project has a controversial history.
When the announcement was first made that hotel towers were going to be built, a great controversy arose in the world of tourism, specifically among the most powerful businessmen in the Dominican Republic and those attached to Inverotel with the Mitur of Francisco Javier García and with the promoters of Cap Cana. Asonahores and Inverotel fought to defend the hotel model of the East zone, with no more heights than that of the palm trees, against the heights planned by the promoters of the towers. The fight had political and personal repercussions and brought with it a strong controversy that led to great feuds and clashes that still persist. However, with the storm of adulterated alcohol and the COVID-19 pandemic, the fight on both sides has considerably diminished. Today, the Moon Palace complex stands as the only beneficiary of the controversy.
The hotel project by José Chapur marks his debut as a hotelier in the DR, and it has generated a lot of interest in the tourism sector. The project's progress can be seen in photos of the state of the works that have been published recently. Although the project has had a controversial history, it is a tourism model that is at stake above personal interests and will continue to give rise to talk.