Hidalgo's 18 failed towers in Cumayasa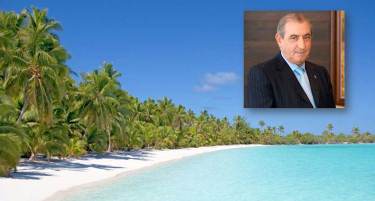 During a contentious period in the Dominican tourism industry, Juan José Hidalgo, the president of Grupo Globalia, made a bold announcement at a press conference in Santo Domingo. He revealed plans to construct not just one, two, or three, but 18 towers on his land in Cumayasa. This fact is supported by newspaper archives. Hidalgo appeared euphoric as he shared this news with stunned journalists.
While his Spanish and Dominican colleagues battled the Mitur of FJG and other powerful forces in the country, Hidalgo stood out by aligning himself with the Tourism industry, the government, and other defenders of this tourism model. He displayed excessive interest in the towers, while his colleagues were engaged in the fight. Prior to the presentation lunch in the capital's Fitur, the president of Globalia contacted Escarrer Jr. and offered him participation in one of the 18 towers in the project known today as La Finca. The CEO of Meliá declined the offer.
Hidalgo is a spirited and unique businessman who is willing to participate in any venture that he sees as profitable. He has been involved in various fields, including hotel management, soccer club presidency, travel agency, soccer player representation, airline ownership, bullfighter agency, real estate development, cattle dealing, and convention center operation. When he focuses on a business, he forgets about his colleagues and friends, and sometimes even legal regulations, leaping into the void without a parachute.
Despite not being foolish, Hidalgo's impulsive nature occasionally leads him to make mistakes like Cumayasa. Few believed that the project would be realized, but it ultimately served to benefit the government and incidentally pit him against his colleagues. Although he is no longer involved in the failed project, detractors criticized its poor focus while proponents defended it more effectively.
The lunch's anecdotal highlight came from the communicator who organized the press conference, as he battled against the towers at first, but then defended them later. In the morning, he worked with the opposition team and attacked them, but in the afternoon, he put on the supporters' backpacks and defended them.