Arajet starts a new route between Santiago, Dominican Republic and Colombia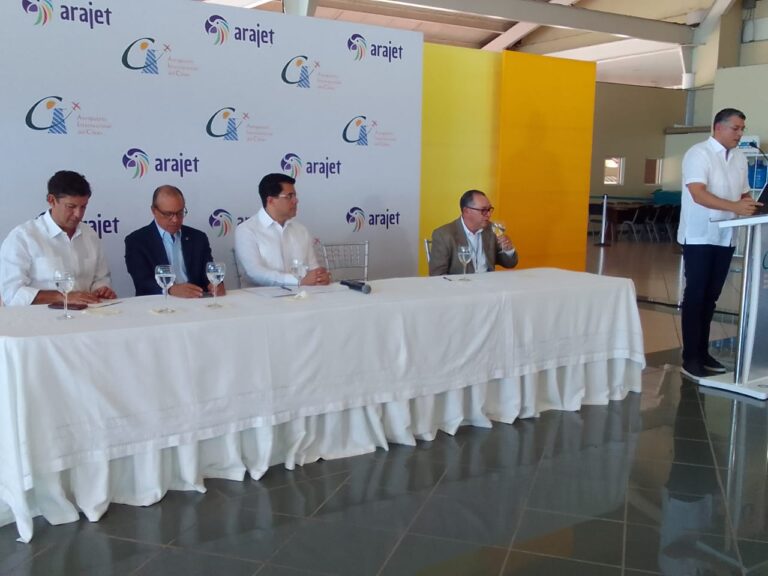 Santiago.- Minister of Tourism David Collado and Víctor Pacheco Méndez, CEO and founder of Arajet, jointly announced the official launch of the new Santiago-Medellín route on Monday. The route, scheduled to begin operations on July 17, signifies a significant milestone in connectivity between the Cibao region of the Dominican Republic and Colombia.
During a press conference held at Cibao International Airport, Víctor Pacheco Méndez expressed his commitment to fulfilling the promise made at the ANATO (Association of Colombian Travel Agencies) event to provide direct travel options from Santiago to Colombia. Pacheco, accompanied by Minister Collado and businessmen Manuel Estrella and José Clase, members of the Cibao International Airport's Board of Directors, highlighted Arajet's role as the low-cost airline of the Caribbean in establishing this new chapter of connectivity.
Minister Collado reiterated the Ministry of Tourism's dedication to promoting tourism development throughout the country, emphasizing their support for the new Arajet route. He expressed confidence that additional routes would be added to make Santiago de los Caballeros and the Cibao region an outstanding tourist destination.
Starting on July 17, Arajet will offer two weekly flights between Santiago and Medellín, fostering closer ties between the two cities and facilitating tourism, economic, and commercial exchanges. The new route will operate on Mondays and Thursdays. On Mondays, flights depart from Santiago at 4 p.m., arriving in Medellín at 5:35 p.m., and return from Medellín at 6:20 p.m., landing in Santiago at 10 p.m. On Thursdays, the route begins in Santiago at 7:45 a.m., reaching Medellín at 9:20 a.m., and departing from Medellín at 10:05 a.m., with arrival in Santiago at 1:45 p.m.
Pacheco further shared that Arajet prides itself on having the most environmentally friendly aircraft fleet in the region, featuring five new aircraft. By the end of 2023, the airline plans to expand its fleet to 10 state-of-the-art technology aircraft, achieving 14% fuel savings and a 40% reduction in sonic pollution, thereby demonstrating its commitment to sustainability and eco-conscious operations.