Sargassum floods Boca Chica: tourist activities fall by 85%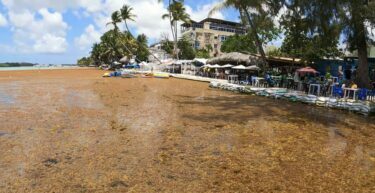 Tourist and commercial activities in the coastal area of the municipality of Boca Chica have been reduced by 85% in the last two months, following the problem of the accumulation of sargassum affecting the beach and the coastline where more than 500 aparthotels operate, according to the mayor's office of Boca Chica.
To deal with the situation, the town council of Boca Chica started an extensive program to collect this material from the waters of the south coast and the beach, employing brigades of workers and more than thirty trucks.
The spread of the sargassum prevents tourists staying in Boca Chica's aparthotels from bathing and recreating in the waters near the businesses due to the foul odor from the decomposing material, contaminating the environment and the entire coastal area.
The problem of the increase of sargassum has caused a considerable decrease in the affluence of foreign and Dominican visitors, both to the tourist hotels and to the beach area, due to the foul smell and the pollution which comes from the waters of the beach, according to Listín Diario.
About this case, the mayor of Boca Chica, Fermin Brito, declared that during the last month of May, about 120 trucks were removed from the vegetation which covers the coastal strip which composes the beach of Boca Chica, Andres, La Playita, among other recreational areas of the marine site of the town.
Brito asked for the urgent collaboration of President Luis Abinader and the Ministry of Tourism (Mitur) to contribute to the cleaning of the beach and the coastline where the accumulation and presence of vegetation are noticeable.
He explained that there is an estimate of more than 200 merchants located in the beach area that has been affected, whose businesses are practically inactive due to the sargassum problem.
"Right now the visit of bathers to the beach has been considerably reduced, because people do not want to bathe due to the contamination of the waters and the unpleasant odor that emanates from them," said the mayor.
He added that not only the merchants around the beach have been affected by the problem, but also more than 500 aparthotels located in the municipality's coastal coast area.