Club Med Punta Cana is renewed to provide better quality to its guests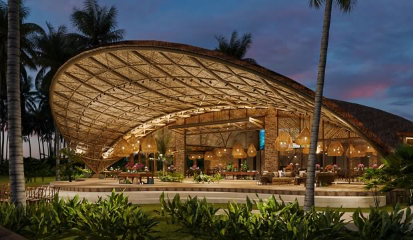 Punta Cana, DR.- Club Med has proudly announced the successful completion of extensive renovations at Club Med Punta Cana, focusing on enhancing guest experiences across various areas of the resort. Notable upgrades have been made to rooms, restaurants, the wedding hall, and the beauty salon.
A major highlight of the renovations lies in the accommodation options. Club Med Punta Cana now boasts 90 recently renovated family rooms, along with 48 brand new Family Superior rooms and 36 Family Deluxe rooms. Each of these family rooms features two bedrooms, ensuring that adults and kids have their own exclusive spaces.
Conveniently located near the resort's central area and its family-friendly amenities, these rooms have been thoughtfully designed with a fun and modern tropical-inspired décor. The vibrant colors borrowed from the Caribbean's natural palette add to the overall appeal of the revamped rooms.
The resort's main restaurant, Hispaniola, has undergone a complete transformation, with an award-winning design that exudes the ambiance of a "Caribbean beach bistro." Inspired by the tropical open-air concept and the rich artistic, musical, and cultural landscape of Punta Cana, the redesigned restaurant offers an all-day dining experience. The cutting-edge dining concept presents a delightful array of dishes from around the world, incorporating fresh local produce and Club Med's renowned French savoir-faire, taking guests on a gastronomic journey filled with international flavors.
For couples seeking an enchanting destination wedding experience, the newly introduced Grupo Bisutti Club Med Punta Cana wedding area is a dream come true. With a capacity to accommodate 250 guests, the area features a 3,982-square-foot covered outdoor terrace, offering the ideal space for tropical cocktails, receptions, and wedding ceremonies.
The resort has collaborated with the prestigious Bisutti Group, a renowned wedding planning firm from Brazil specializing in coordinating destination weddings, to create this exceptional on-site wedding venue.
Moreover, Club Med Punta Cana has elevated its spa and wellness offerings by unveiling its completely renovated beauty salon, strategically located at the entrance of Club Med Spa by L'Occitane. The revitalized salon now offers a comprehensive menu of beauty treatments, catering to the diverse wedding and wellness needs of the guests.
With these remarkable renovations, Club Med Punta Cana is all set to provide an even more enriching and immersive experience for its cherished guests, encompassing modern comforts, delectable cuisine, unforgettable wedding memories, and rejuvenating spa services amidst the breathtaking beauty of Punta Cana's tropical paradise.