JetBlue blames its delays in the Dominican Republic on lack of FAA personnel and the weather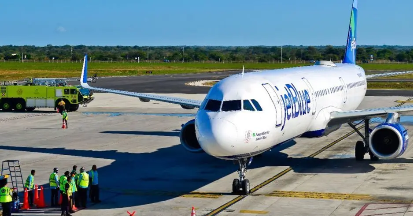 Santo Domingo.- JetBlue recently addressed the delays affecting its flights to and from the Dominican Republic, attributing them to a combination of factors. The airline cited a shortage of air traffic controller personnel from the Federal Aviation Administration (FAA) as a significant challenge, particularly in the Northeastern region of the United States, which impacts their entire network. Moreover, they emphasized that severe and uncontrollable summer weather further exacerbated the situation.
A spokesperson for JetBlue explained that the current FAA staffing shortage has led to more restrictive and prolonged ground delay programs compared to previous summers. As a result, most airlines, including JetBlue, have had to reduce their flights in the Northeast at the FAA's request to cope with the situation.
The airline acknowledged that the past two months have been particularly challenging due to 25 days of severe weather in June and July. These weather conditions have made it difficult for them to maintain their schedule and operate flights on time, affecting all flights, including those to the Dominican Republic, as well as flights of other airlines on the East Coast.
Despite these challenges, JetBlue highlighted its dedication to customer service, revealing that their completion factor on flights to the Dominican Republic from New York and Boston reached an impressive 99.24% in June and July. This completion rate stands out as the highest among other major airlines flying to the country.