Cap Cana will host the Ironman 70.3 held for the first time in the Dominican Republic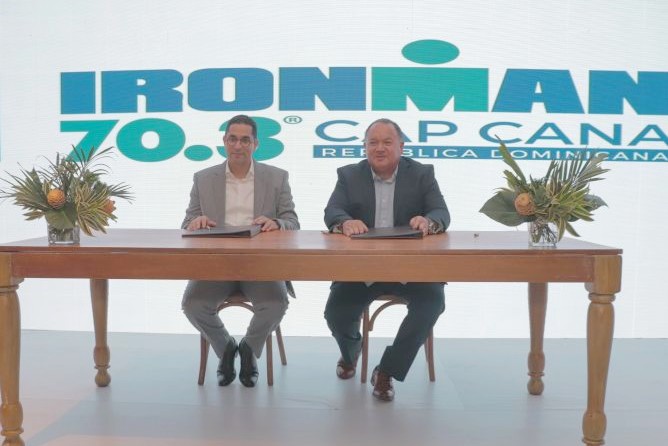 Punta Cana, DR- Cap Cana and the Colombian company SBR Sports signed an agreement to hold for the first time the Ironman 70.3 in the Dominican Republic, a competition that is projected to be held in 2024 with the format: 1.2 miles (1.9 km) swimming, 59 miles (90 km) cycling and 13.1 miles (21 km) running.
Wilber Anderson, CEO of SBR Sports, said, "We are proud, satisfied and happy about this collaboration between SBR Sports and Cap Cana to work together to make Ironman 70.3 a reality in the Dominican Republic.
In addition, it is very important to present an international destination like this, which lends itself to athletes from all over the world to enjoy this privileged and strategic location just 10 minutes from the Punta Cana International Airport (PUJ), which connects quickly with the most important cities in the world, from North and South America, as well as Europe, the number one destination in Latin America and the Caribbean".
"Our athletes will be able to compete and enjoy the richness that Cap Cana has, definitely a perfect destination for a race like this one," he added.
Jorge Subero Medina, executive president of Cap Cana, expressed that the destination city is honored to receive this vital triathlon that will make its first stop in the Dominican Republic. He said the participating athletes will enjoy competing in this paradise thanks to all the characteristics that make Cap Cana a unique place.
"Their family and friends will be surprised and I am sure they will love everything we will offer. In our destination there is something for everyone, from relaxing on the beach, adventures accompanied by nature with authentic cenotes, to enjoying beautiful views, all-inclusive hotels and exquisite cuisine," he concluded.