International expert and IDAC evaluate human factors that affect operational security
Santo Domingo.- The Dominican Civil Aviation Institute (IDAC), through the Higher Academy of Aeronautical Sciences (ASCA), organized a workshop called "SMS plus human factors: perfect formula for operational safety," taught by international expert Victor Manuel del Castillo.
The workshop was dedicated to guide the technical and operational actors of the Dominican aeronautical sector on the new resources and tools available to prevent, mitigate and efficiently reduce the risks involved in air operations in the field of civil and commercial aviation.
"This workshop, rightly called 'SMS (Safety Management System) plus Human Factors' is an extremely timely contribution to complement the commitment made by IDAC to respond to the great challenge posed by the exponential growth currently recorded by the Dominican aeronautical system," said Carlos Alcántara, technical coordinator of the entity, on behalf of director Hector Porcella.
He emphasized that the demand for training for national airline personnel has been growing steadily, as reflected in the constant increase in the number of courses and diplomas offered by ASCA, especially since 2021.
ASCA director Clara Fernandez thanked the presence of international expert Victor Manuel del Castillo, for his contributions offered to the technicians and students of the academy participating in the workshop.
"We are confident that this conference/workshop will help all those involved in air operations (present and virtually connected) in the design of strategies and controls that allow them to minimize the risks associated with human error, while complying with national and international regulations to ensure aviation safety," said Fernandez.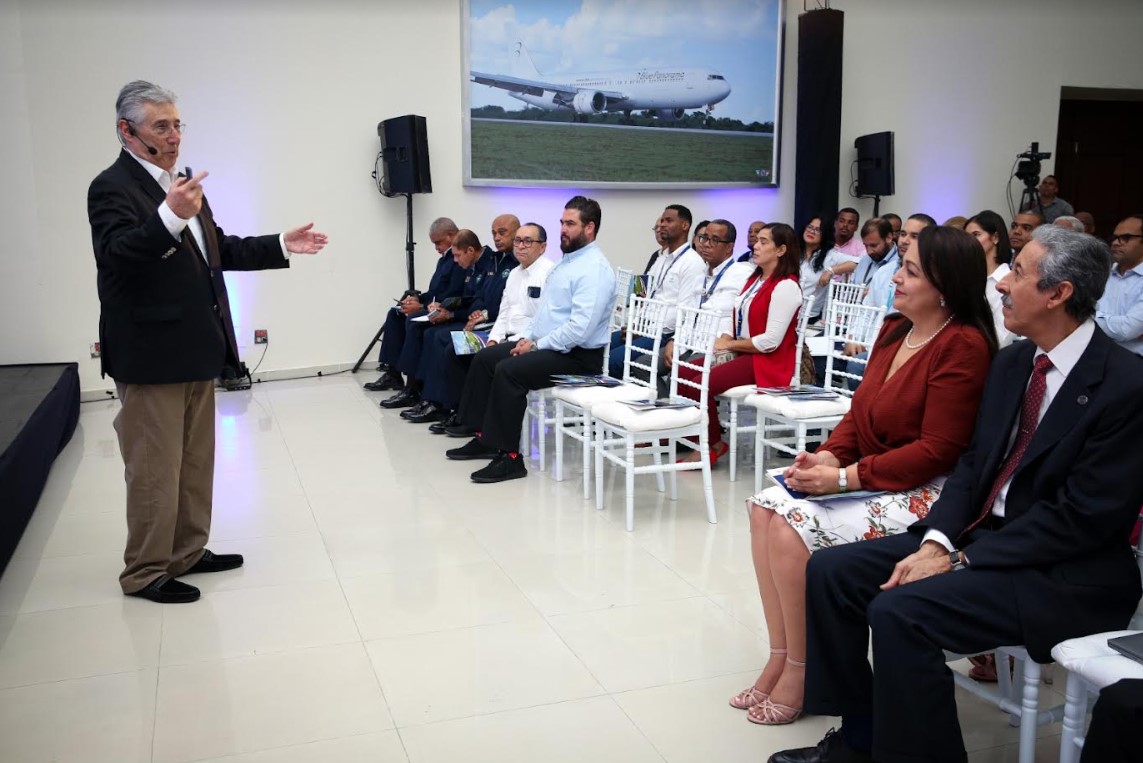 The conference held at ASCA's Aula Magna was also attended by the directors of Safety Oversight, Gender Castro; Human Resources, Ana Ysa Tejeda; Air Navigation, Claudia Roa; Regulation and National Aircraft Registry, Franklin Reyes Rossó; Financial, Abel Taveras; Sustainable Development, Miguel Mejía; Auditing, Fernando Cruz; Transparency and Citizen Service, Bosco Guerrero Heredia; as well as aeronautical technicians and IDAC staff.
Victor Manuel del Castillo is an international specialist in Human Factors and SMS Implementation, with over 53 years of experience in civil and military aviation, for the Americas and Spain.
Among the topics addressed during the presentation were "Myths and realities of human factors," "How can I be competent," "The 4 pillars of SMS," "Traditional approach of some organizations," "What you have to know to be happy" and "9 reasons why an SMS does not work properly."