Arajet transports more than 350 thousand passengers in its first year of operations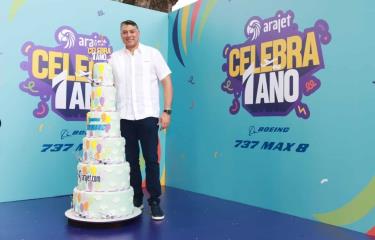 Arajet, the airline known for connecting the Dominican Republic to North, Central, and South America with its fleet of Boeing 737 Max 8 aircraft, celebrated its first anniversary of operations. During this inaugural year, Arajet transported over 350,000 passengers.
Victor Pacheco Méndez, CEO & Founder of Arajet, expressed gratitude to the passengers who put their trust in the airline, as well as the over half a million people who have purchased air tickets with Arajet. He emphasized that Arajet's mission is to democratize air travel, making it accessible at the lowest possible prices.
In just one year, Arajet has expanded its services to encompass 22 destinations across 15 countries, effectively establishing Santo Domingo as a new hub in the Caribbean connecting to the continent.
Pacheco Méndez highlighted the airline's positive impact on the job market, with more than 350 direct employees and over 1,000 indirect employees. Arajet has also invested in training programs for Dominican pilots and cabin crew, nurturing specialized talent in the aviation sector.
The CEO acknowledged the crucial support from investors like Bain Capital and Griffin Capital Management, as well as their partnership with Boeing Company, which has played a pivotal role in the airline's success and the revival of Dominican aviation.
Pacheco Méndez also praised the legal support provided by the Dominican government, led by President Luis Abinader and Minister of Tourism David Collado. He shared their ambitious goal of becoming the Dominican airline that transports 5% to 10% of the tourists coming to the country by 2024.
The contributions of various aviation authorities and government agencies were recognized, underscoring their collective efforts to make affordable air travel accessible to Dominicans. Álvaro de Oleo, Senior Marketing and Electronic Commerce Consultant at Arajet, noted that the airline has positively impacted the tourism sector, with the immigration department projecting that one million Dominicans will have flown for the first time by the end of 2023. Arajet's mission to make flying accessible to everyone aligns with this goal, ensuring that countless Dominicans have the opportunity to experience air travel.