The four challenges that Dominican tourism must overcome, according to David Collado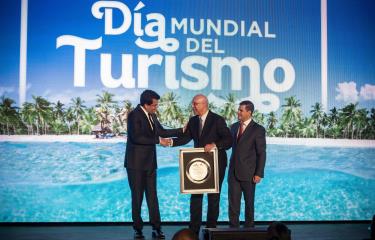 Santo Domingo.- The Minister of Tourism, David Collado, identified four main challenges facing Dominican tourism for continued consolidation in the Latin American and Caribbean region. These challenges are infrastructure, security, investments, and air connectivity.
Infrastructure: Collado emphasized the need to improve infrastructure to enhance the quality of tourism offerings. He mentioned road improvements in tourist areas such as Verón-Punta Cana and similar work in Las Terrenas and Bayahíbe. Additionally, renovation and construction of jetties in Santo Domingo Este and La Romana are underway to facilitate tourism.
Security: Collado highlighted the importance of reinforcing security in tourist spots. He proposed the creation of a Business Brigade of the Tourist Police, involving the private sector in investing in equipment and resources for enhanced security. The Ministry of Tourism has already allocated funds for equipment and technological tools to address security issues, including those related to sexual tourism.
 Investments: The minister stressed the need to attract more investments to increase the country's hotel capacity. He mentioned the significant investments made in the Dominican Republic, including projects by international hotel chains such as W Hotels and Ritz-Carlton. Collado acknowledged the contributions of commercial banks and pension fund administrators in developing tourism projects.
 Air Connectivity: Collado recognized the importance of expanding air routes to make travel to the Dominican Republic more competitive in terms of convenience and prices. He mentioned the efforts of low-cost airline Arajet in opening new air routes in South America to enhance connectivity.
World Tourism Day found the Dominican Republic in a privileged position, with tourism contributing significantly to the economy in terms of taxes and purchases.
During the World Tourism Day event, the Ministry of Tourism recognized the contributions of various individuals, companies, and institutions to the promotion and positioning of the Dominican Republic as a Caribbean destination. This included acknowledging figures in the tourism industry who have played a pivotal role in its development and growth.
The challenges and initiatives outlined by Minister David Collado reflect the government's commitment to further develop and strengthen the tourism sector in the Dominican Republic.