Reef Jet milestone: connects Punta Cana with Santiago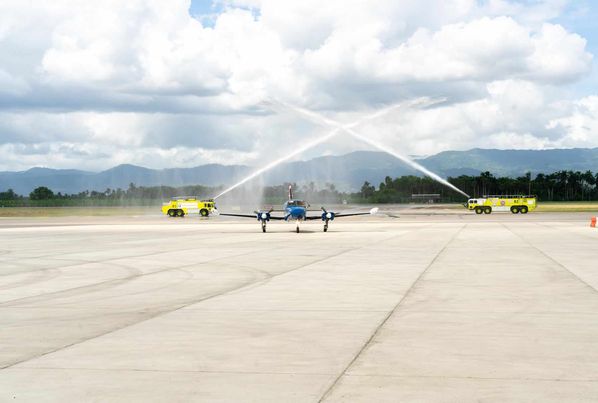 Punta Cana.- Reef Jet, the Dominican airline, has successfully launched its inaugural flight on the Punta Cana to Santiago route, marking the commencement of commercial operations between two significant tourist destinations within the country.
The inaugural flight received a warm welcome at the General Aviation Terminal (FBO) of the Cibao International Airport. Executives from Reef Jet, directors of the Santiago Tourism Cluster, government authorities, businessmen, and other dignitaries were present to celebrate this milestone in Dominican air connectivity.
The flight, which is a noteworthy development for Dominican travel options, took off from the FBO terminal of the Punta Cana International Airport at 1:00 PM and landed in Santiago just 50 minutes later. This inaugural route offers both local and international travelers the opportunity to conveniently and comfortably connect from Punta Cana to the heart of the Cibao region.
The flight schedule includes departures from Punta Cana on Fridays at 2:00 PM and from Santiago at 3:30 PM. On Sundays, flights will leave Punta Cana at 3:00 PM and Santiago at 4:30 PM.
César González, the CEO of Reef Jet, emphasized that this air connection aligns with the government's tourism promotion plans by combining Punta Cana's tourism leadership with the rich cultural, gastronomic, and tourist offerings of the Cibao region.
Travelers can now choose to spend a weekend in either Santiago or Punta Cana, depending on their starting point. Reef Jet has established partnerships with City Tour Santiago to offer organized excursions, hotel deals, and discounts at local businesses. They also promote visits to nearby provinces such as Espaillat, Puerto Plata, La Vega, San Francisco de Macorís, and other attractions in the Cibao region.
González further explained that this initiative by Reef Jet reflects their expansion vision, confidence in the economic development of the area, and the desire to provide customers with an experience that optimizes their travel time.
Geraint María Barrot, the airline's Operational Director, highlighted the high expectations associated with the new route. It is anticipated to be a fantastic connection between these iconic destinations, offering travelers an experience that efficiently utilizes their travel time, whether for tourism, leisure, or business.
With the introduction of this route, Reef Jet solidifies its position as the premier airline for tourist excursions in the Dominican Republic, reaffirming its commitment to tourism development and the diversification of the country's offerings.