H10 Hotels, the first chain to certify the calculation of its carbon footprint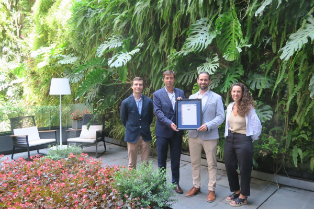 H10 Hotels has achieved the CO2 Compliance Certificate from AENOR, a renowned certifying entity. This makes H10 Hotels the first hotel chain to calculate its carbon footprint and obtain certification. The calculation of greenhouse gas emissions was verified by AENOR, using the Greenhouse Gas Protocol (GHG Protocol), an internationally recognized standard for measuring and managing emissions. The certification, which will be updated annually, demonstrates H10 Hotels' commitment to sustainability as part of its Stay Green plan, aiming to reduce greenhouse emissions per stay by 75% by 2030 compared to 2010 levels.
H10 Hotels considered scope 1 and scope 2 emissions for its calculations, as these are most influenced by hotel operations. This includes European hotels under the H10 Hotels and The One brands, Ocean hotels in the Caribbean, and corporate headquarters. In 2022, the calculated carbon footprint per stay was 6.5 kg CO2 equivalent, with 2.2 kg CO2 eq./stay corresponding to scope 1 and 4.3 kg CO2 eq./stay to scope 2, which is among the lowest ratios in the hotel industry.
H10 Hotels has taken various measures to reduce greenhouse gas emissions, including using renewable energy sources, installing solar and geothermal panels, and focusing on alternative heat generation technologies. The company is committed to minimizing its environmental impact and promoting sustainable tourism across all its destinations through its Stay Green strategic plan.