President Luis Abinader inaugurates tourist and fishing dock in Sánchez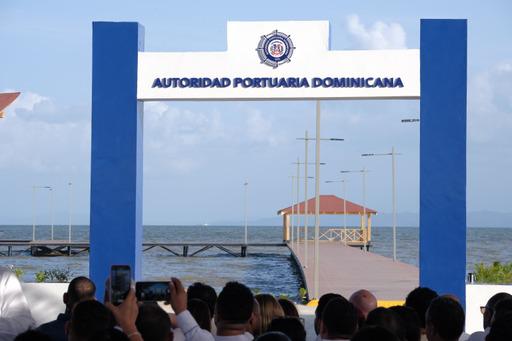 Samana.- President Luis Abinader Corona, alongside Jean Luis Rodríguez, the Executive Director of the Dominican Port Authority (APORDOM), inaugurated the Sánchez tourist and fishing dock in the municipality of Samaná, with a total investment of 58 million pesos.
During the event, the head of APORDOM emphasized that the Sánchez tourist and fishing dock is a testament to the commitment to fishing and the sustainable tourism development of the country. This project is a significant step that will positively impact over a thousand families and benefit around 5,000 individuals.
The fishing dock represents more than just a physical structure; it symbolizes hope and progress for the Sánchez region and the entire area, home to hundreds of fishermen known for their renowned shrimp catch, and boasting a fleet of over 300 boats.
Rodríguez explained that the initiative goes beyond the construction of a fishing and tourist dock. The broader vision is to create a nautical tourism route, taking advantage of the large developments in the area, including the Arroyo Barril Cruise Port, the Samaná Bayport Cruise Terminal, and the tourist development in Miches. This will allow millions of cruise passengers who visit the region each year to explore Sánchez.
The fishing dock features a breakwater with several branches, an exclusive access road for fishermen, a maneuvering yard, and a service area. Additionally, a park and gazebo have been constructed to provide recreation for visitors and a resting place for fishermen as they prepare for their daily work.
This infrastructure is expected to stimulate economic activity and boost the entire tourist and fishing sector in the Northeast region, contributing to job creation for fishermen as part of a comprehensive development plan. Technological advancements and enhanced security measures are also part of the project.
The inauguration event included a religious invocation by Antonio Corcino, a community pastor and member of the fishermen and boatmen association.
The Sánchez fishing pier comprises walkways, viewing platforms, jetties, unloading platforms, cleats, naval buoys, lighting, maneuvering yards, service areas, and administrative offices, with a total area of 890.46 square meters and a capacity to accommodate 70 boats simultaneously. Notably, all piles in the dock are filled with concrete, boasting a resistance of 350kg/cm2 and featuring anti-slide additives, integral waterproofing, and silica fume.