Transat Tours to bring 45,000 Canadian tourists to Samaná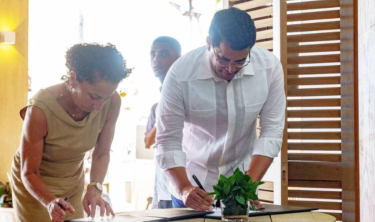 Samaná—The Ministry of Tourism (Mitur) signed a cooperation agreement with the Canadian group Transat Tours, which integrates the airline Air Transat, intending to operate new flights to Samaná. This destination is being strengthened with projects of important hotel brands.
The agreement was signed by the Minister of Tourism, David Collado, and the vice-president of Products of Transat Tours, Renée Boisvert.
Collado indicated that "we continue to strengthen our main tourist issuing markets! This afternoon (Thursday) we signed a cooperation agreement with Transat Tours where we secured the arrival of 45,000 visitors from Canada."
"We continue to develop key alliances for our tourism," said the minister.
On his side, Boisvert said, "The town has to have good restaurants, a boardwalk that is ready, a garden, some cafes so that the customer has the confidence to leave an all-inclusive and enjoy the town. I think that this,, too, is supported by the public sector."
"The minister is promoting the country, but dedicating a specific budget to Samaná, because we have to talk about this destination that is still unknown," he explained to arecoa.com.
Despite the advertising promotions, he announced that Samaná needs a specific budget to talk more about the destination and make it known to tourists.
This agreement was signed during the inauguration of Cayo Levantado Resort of Grupo Piñero.