Dominican eye doctor guilty of US$105M Medicare fraud: palmbeachpost.com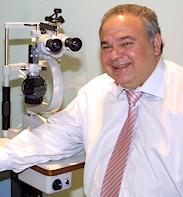 S. Melgen. File
Santo Domingo.- A US federal jury in Palm Beach County, Florida, on Friday convicted Salomon Melgen on charges of operating what prosecutors called a massive scheme that robbed Medicare out of as much as US$105 million, palmbeachpost.com reports.
The 62-year-old, who lives in a multi-million-dollar house along the Intracoastal Waterway near Juno Beach, showed no emotion when pronounced "guilty."
"He was equally stoic when federal marshals snapped handcuffs on his wrists to take him to jail where he will await sentencing on July 14," the outlet reports
U.S. District Judge Kenneth Marra denied a request from Melgen's attorneys to allow the ophthalmologist to remain free on an US$18 million bond package. While Melgen sold his jet and boat, Marra said he wasn't convinced the wealthy doctor, native of the Dominican Republic and still owns property there, wouldn't flee.
"Having been convicted of crimes that could send him to prison for as long as 20 years, Melgen also faces a Sept. 6 trial on corruption charges in New Jersey with U.S. Sen. Robert Menendez," palmbeachpost.com said.