OAS not meddling in Venezuela, Dominican Rep. thinks otherwise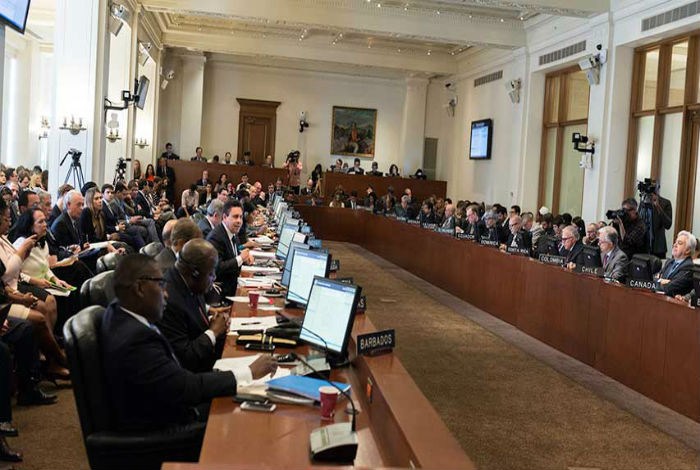 OAS meeting on Venezuela. Photo elnuevodiario.com.do
Cancun.-  The debate over Venezuela's political crisis, blamed for more than 70 deaths, isn't interventionism since democracy is one of the fundamental pillars of the OAS, its secretary general said Monday, at the start of the hemispheric body's General Assembly, AFP reports.
Luis Almagro's statement comes just hours after Dominican Foreign minister Miguel Vargas's affirmation that his country won't meddle in Venezuela's internal affairs.
The foreign ministers of OAS member countries will hold a special meeting on Venezuela after the initial May 31 meeting in Washington was canceled due to lack of agreement.
The special meetings on the South American country are a thorny issues and have prompted Venezuela president Nicolás Maduro to denounce alleged intervention, and to announce his country's departure from the OAS in April, a  process which will last two years.
In a press conference Almagro said that if analyzed Venezuela's case "is not intervention" because "the defense of democracy is an essential principle (of the OAS)."
Daily street protests have rocked Venezuela since April 1, after the Supreme Court undermined the powers of its Legislative branch, which rose sharply after Maduro's call for a Constituent Assembly.
More than 70 people have reportedly died in the protests.