US agents nab Dominican in 15 kilos drug haul, seize boat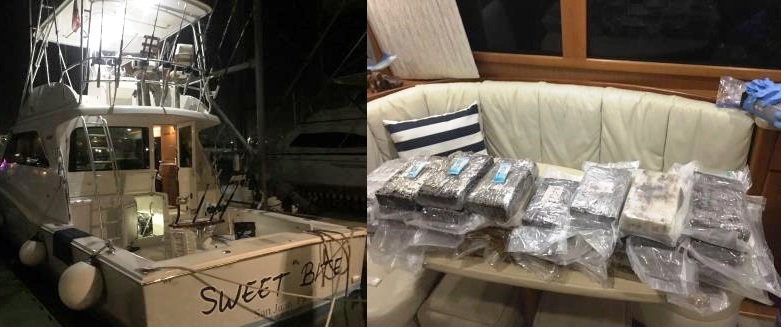 San Juan, Puerto Rico -U.S. Customs and Border Protection (CBP) officers found 116 pounds (52.55 kilos) of cocaine concealed inside a private vessel inspected on Sunday. The estimated wholesale value is $1.6 million.
On Jun. 24, a private vessel named "Sweet Bite" was randomly selected for inspection at the San Juan Seaport. A CBP K9 alerted of the potential presence of narcotics behind a panel.
An intrusive inspection revealed the presence of 44 sealed bags that, when field tested, reacted positive to cocaine. CBP officers arrested the 2 vessel operators; Omar Cortes Corujo, 39, a United States citizen, and Jose M. Mercedes Ynirio, 39, a citizen of the Dominican Republic.
"CBP uses information from various systems and specific techniques for selecting passengers and vessels for targeted examinations," stated Edwin Cruz, San Juan Area Port Director.
Operators of pleasure vessels, arriving in the United States from a foreign port or place, to include any vessel which has visited a hovering vessel or received merchandise outside the territorial sea, are required to report their arrival to CBP immediately.
Homeland Security Investigations (HSI) Special Agents assumed custody of the 2 men and the contraband for prosecution and investigation.  CBP seized the vessel.
CBP officers have the authority to inspect persons, vehicles, vessels, merchandise and personal belongings without a warrant.