20 marchers excluded from Bronx Dominican Parade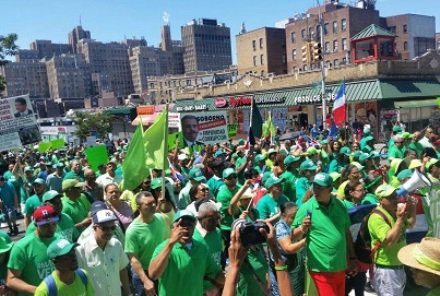 Dominicans in New York march against corruption (image from eldia.com.do)
New York City.- A group of around twenty marchers were expelled from Sunday's Dominican parade held in the Bronx because they did not have permits to participate in the event.
Video images show agents speaking to the protesters and asking them to leave the area because they did not have authorization.
Green Movement leaders said that the people who were removed from the parade had not been authorized by the central directorate and that their presence was unilateral. The individuals in question have not been identified.
They added that anyone using the Green March to act on their own accord would be penalized by possible expulsion.
"They decided and took action without consulting anyone and without any authorization," they stated.
The spokesperson stressed that the Green Movement represents a civic, organized and disciplined movement and that they would act to prevent such incidents from occurring in future.