Yonkers' kudos for Dominican who saved girl attacked by dogs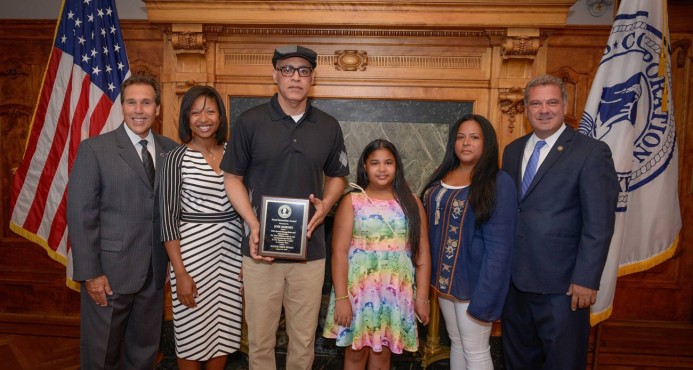 José Jiménez, with Jaelyn Rodriguez. Photo Yonkers City Hall
New York.- The Yonkers City Council on Wednesday recognized a Dominican for saving an 11-year-old Puerto Rican girl attacked by two dogs on a street in that town last June.
Jose Jimenez, of Yonkers, was driving home from work on June 22 when he came across the girl, being attacked by the two bullmastiffs.
"I saw two big dogs over a girl, I thought they were playing, but I was not close enough to define the situation," recalled Jiménez, who received the Good Samaritan Prize from Mayor Mike Spano at City Hall. "When I got a little closer, I saw those dogs biting the girl, that's when I made the decision to do something."
He said he jumped out of his car, grabbed a garbage can lid and other objects on the street, and hit the dogs until he was able to hold them off long enough to put Jaelyn Rodriguez into his vehicle to take her to the hospital.