Ian becomes a hurricane and threatens western Cuba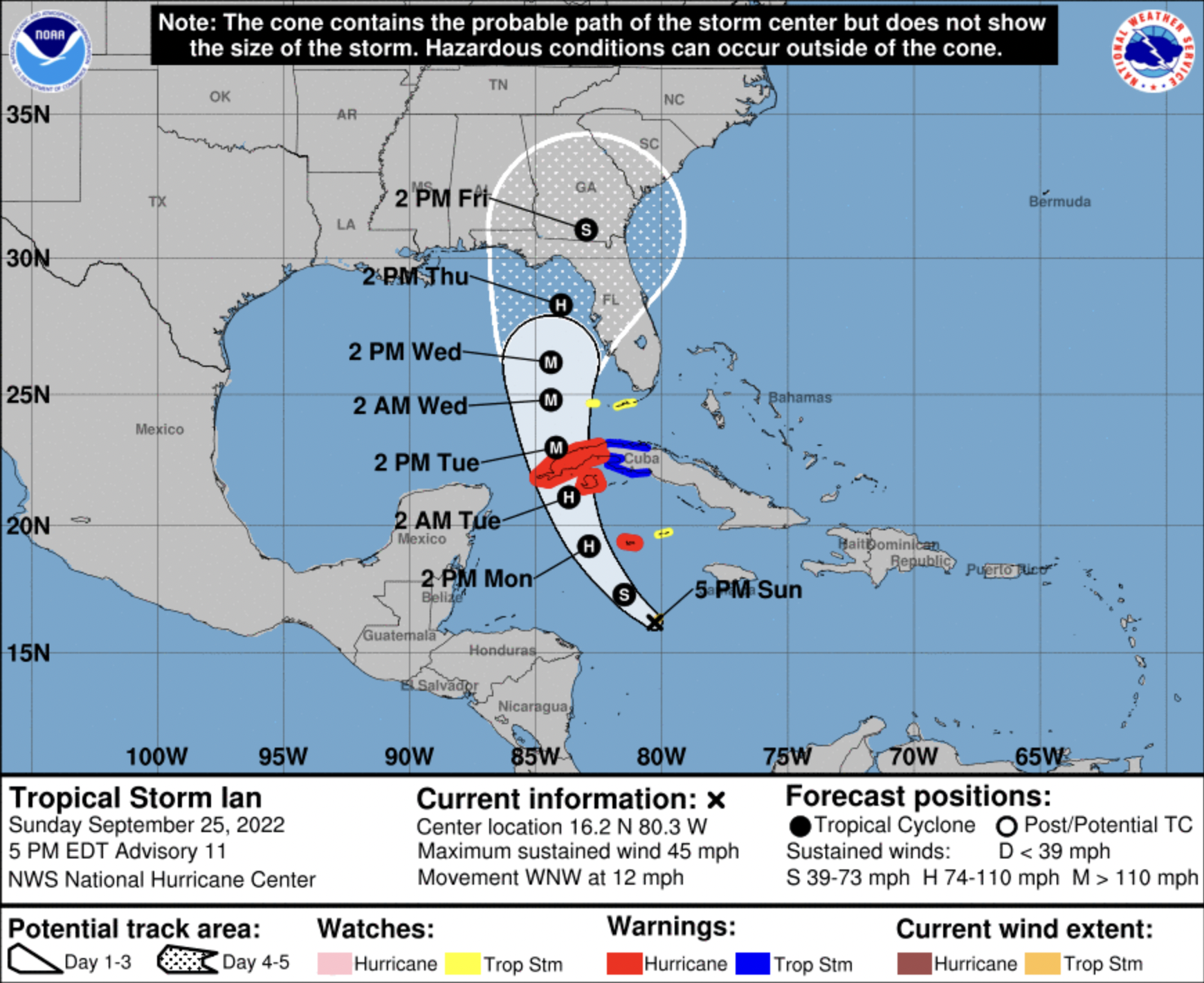 Image Source: NHC
Tropical storm Ian became a category 1 hurricane and is moving north today with sustained winds of 120 kilometers per hour, threatening the western third of Cuba on its way to the Gulf of Mexico, where it is expected to arrive as a major category hurricane. . The US National Hurricane Center (NHC) reported in its most recent bulletin that Hurricane Ian is rapidly strengthening and at 0900 GMT it was about 150 kilometers from Grand Cayman and about 510 from the extreme west of Cuba.
According to the NHC, the hurricane is expected to cause "significant impacts of winds and storm surges" in western Cuba, where it is estimated to arrive shortly after midnight on Monday (04:00 GMT on Tuesday). The eye of the cyclone is advancing at about 22 kilometers per hour and it is expected to slow down in the coming hours, with which it will gain more strength, until it becomes a major hurricane, that is, with winds of at least 177 kilometers per hour.
Apart from the existing hurricane warnings for Grand Cayman and the Cuban provinces of Isla de Juventud, Pinar del Río and Artemisa, a new warning has been issued for the west coast of Florida, where it is estimated that Ian could arrive at the end of the Wednesday. Warnings have also been issued for the Cuban provinces of Havana, Mayabeque and Matanzas, as well as the Florida Keys, where the NHC believes Ian will hit with tropical storm force.
"Rapid strengthening is expected over the next few days or so, and Ian is forecast to become a major hurricane tonight when near western Cuba," the National Hurricane Center reported, indicating that hurricane-force winds extend about 30 kilometers from the vortex of the cyclone.
Source: Diario Libre